Hiking is a great way to get out in nature and get some fresh air. It's also a fantastic source of exercise if you're looking for a low impact activity that can still be strenuous at times. But have you ever considered hiking in Birkenstocks? There are more and more people deciding to hit the trail wearing these stylish summer favorites, but should you consider making this footwear decision before embarking on your next hike? Is it even safe or recommended? We'll dive into the pros and cons of hiking with Birkenstocks, so you can make an informed decision about what kind of shoes will best suit your upcoming outdoor adventure!
What are the Best Clothes for Hiking?
The proper clothing is essential for an enjoyable and safe experience. The best clothes for hiking should be lightweight, breathable, and provide protection from the elements. It's also essential to select items in fabric that wicks sweat away from your skin quickly while also providing warmth when needed.
Hiking pants come in a variety of styles such as zip-off pants, which can be easily converted to shorts when the weather is hot. Most hiking pants are made of nylon or polyester fabrics with a waterproof coating and may include features like drawstrings for added protection from the cold. Hiking shorts should also be breathable and lightweight as well as provide sun protection.
For top layers, consider items like long-sleeve shirts, jackets, and vests. Merino wool is a popular choice as it's lightweight, breathable, and provides excellent temperature regulation. Down coats can be an excellent option for providing warmth in cold weather but may not be the best choice for wet climates.
Hiking boots should also be chosen with care for added comfort and protection from the elements. Look for boots with good ankle support and plenty of room in the toe box. Hiking socks should be moisture-wicking and provide arch support, as well as having extra cushioning in areas prone to rubbing or blisters.
Accessories such as hats, gloves, and scarves can also make outdoor excursions more comfortable and enjoyable. Choose items made from lightweight and breathable materials like wool for added warmth. Sun hats with wide brims can provide the necessary protection from the sun's UV rays. [1]

How to Choose Hiking Shoes?
Here, there is no one-size-fits-all solution. Every hiker needs a pair of shoes that are comfortable and supportive enough to withstand rocky terrain and unpredictable weather conditions. With so many types of hiking shoes available, it can be difficult to know which ones will best suit your needs. Here are some things to consider when selecting the right pair of hiking shoes for your next excursion:
Comfort Is Key
When shopping for a new pair of hiking shoes, comfort is likely your number one priority. Make sure that your toes have enough wiggle room and that the heel and arch are well-supported. Keep in mind that materials like leather or synthetic fabric will stretch after some time, so it's important to try on shoes before you buy. [2]
Waterproofing
No hiker wants to end up with wet feet during their adventure, so it's important to find a pair of hiking shoes that offer waterproofing features. Look for shoes made of materials like Gore-Tex or neoprene, and check for any extra features such as a gusseted tongue or waterproof seams.
Stability
If you're planning on hiking off the beaten path, then stability is key. Choose shoes with good treads that will help you move easily over uneven terrain and provide traction when climbing steep hillsides. Opt for lightweight but sturdy materials, like leather or synthetic fabrics.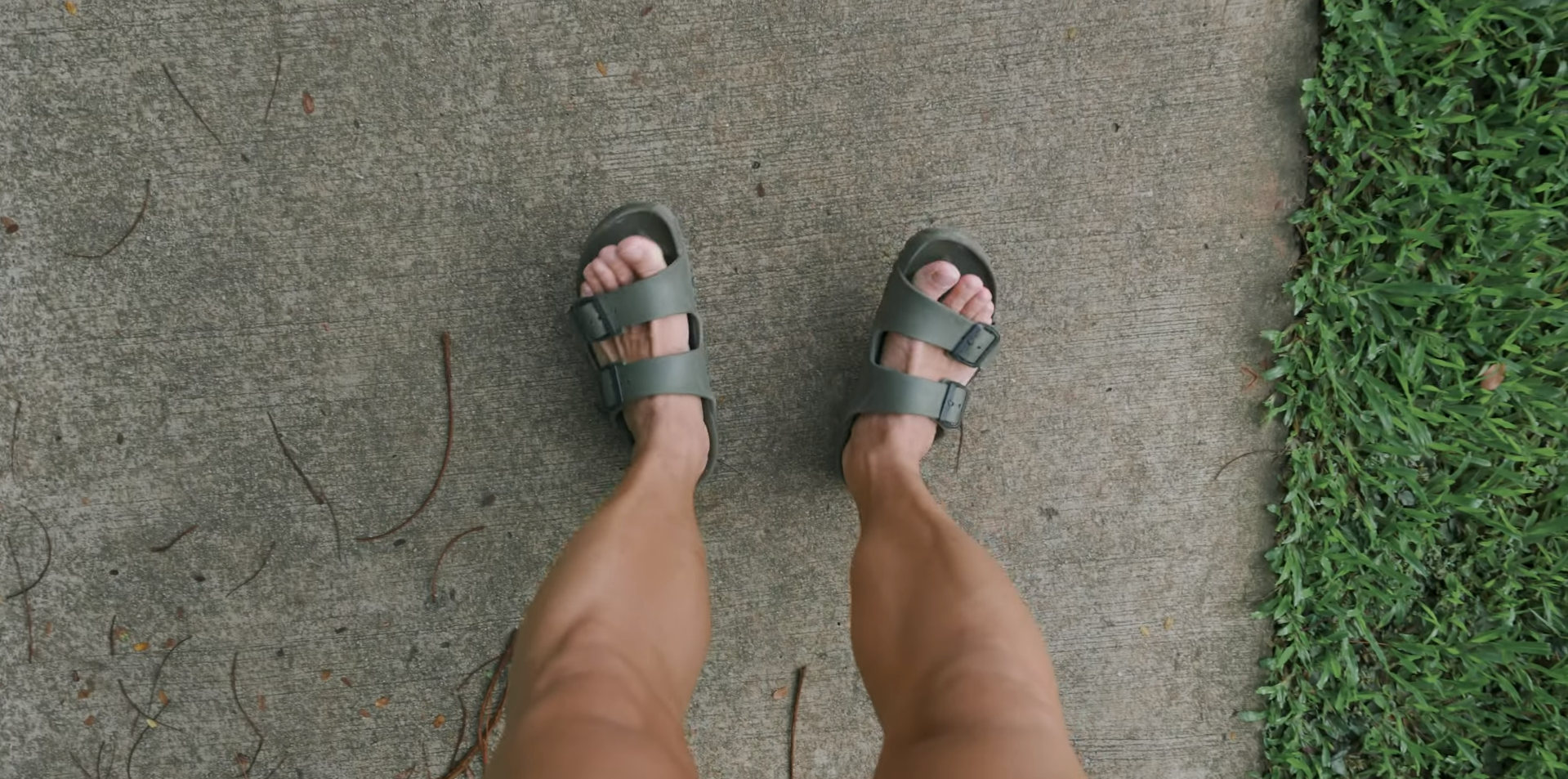 Durability
These shoes should be built to last and withstand wear and tear from the elements. Look for thick rubber soles with reinforced heels and toes that will protect your feet from rocks and other obstacles you might encounter on the trail. Be sure to double-check customer reviews to ensure that the shoes you buy will last.
Weight
Given that you'll likely be carrying a heavy load on your hikes, it's important to find lightweight but sturdy shoes. The weight of the shoe should not compromise the support and comfort you need for your feet. Invest in a pair of hiking shoes with strong cushioning and enough cushioning to absorb shock.
Wear-In Period
Keep in mind that there is usually a wear-in period before they are broken in and fit perfectly. Make sure to give yourself plenty of time to break in your shoes before you hit the trail.
Maintenance
Once you find your perfect pair of hiking shoes, it's key to keep them in good condition so they can continue to protect your feet and last for many more hikes. After each use, make sure to clean and dry your shoes thoroughly, as well as re-apply any necessary waterproofing treatments. Store them in a cool, dry place so they can stay in the best condition possible. [3]

Understanding Birkenstocks Models
Birkenstocks have been a fashion favorite for decades, and their popularity isn't waning anytime soon. With so many models to choose from, it can be hard to know which one is right for you. [4]
Arizona
The Arizona is Birkenstock's original sandal design and the most popular style. It features two adjustable straps, a contoured footbed, and an elevated heel cup. These comfortable shoes come in both leather and suede varieties for casual occasions.
Gizeh
The Gizeh model is similar to the Arizona, but with a single thong-style adjustable strap. It's lightweight and features a less pronounced arch than the Arizona. This model is perfect for those who want to show off their feet while keeping them comfortable.
Mayari
The Mayari is one of Birkenstock's newest designs, featuring two adjustable straps on top of a toe loop. This model is perfect for those who want a more secure fit on their feet, as the toe loop helps keep them in place. They also feature Birkenstock's contoured footbed and elevated heel cup for maximum comfort.
Boston
The Boston features an adjustable buckle strap on top of a closed-in clog design. They have the same contoured footbed and elevated heel cup as the other models, but with a more secure fit for those who don't want to worry about straps slipping off.
Madrid
The Madrid is one of Birkenstock's most popular designs, featuring a single adjustable strap across the toes. They are perfect for those who want a classic look with maximum comfort, as they feature the same contoured footbed and elevated heel cup as other Birkenstock models. [5]

Key Features of Birkenstocks
These are a world-renowned footwear brand that offers the highest quality sandals, shoes and clogs for all types of feet. They've been around since 1774, and are known for their unique combination of comfort and style. Here's what makes Birkenstocks a must-have for any wardrobe:
Arch Support: Birkenstocks' famous footbeds are designed with contouring arch support that offers an ergonomic design to fit the structure of your feet, ensuring comfort and preventing fatigue.
Comfort: They have a cork footbed that conforms to the shape of your feet as you wear them, making them perfect for all-day comfort.
Versatility: With a variety of styles and colors available, Birkenstocks can be dressed up or down to match any outfit.
Quality: All of the materials are sustainable and ethically sourced, making them a brand you can trust.
Support: Birkenstock has excellent customer service and is dedicated to helping customers find the right fit for their feet.
Variety: From sandals to shoes and clogs, there is something for everyone in the Birkenstock line, no matter what your style or what type of foot you have.
Whether you're looking for a classic style, something more modern, or just want the comfort and support that only Birkenstocks can offer, there is an option to suit your needs. Invest in quality footwear with Birkenstocks today and look good while feeling great! [6]

Can You Hike in Birkenstocks?
The iconic sandals known for their comfort and durability are a great option for hikers who are looking for footwear that will be just as comfortable on a day trip as it is around the house.
The soles of Birkenstocks are made from EVA foam which provides excellent cushioning while trekking over hills and rocky terrain. The footbed is also designed to mold to the shape of your feet, providing even more cushioning throughout your hike.
You can find countless reviews online from hikers who swear by their Birkenstocks. There are even outdoor blogs dedicated to the topic! So whether you're a novice hiker or an experienced adventurist, a pair of Birkenstocks is sure to provide comfort and stability on your next hike. [7]
Benefits of Hiking With Birkenstocks
These are incredibly comfortable shoes that have been around for centuries. They are ideal for hiking due to their supportive footbeds and adjustable straps providing a secure fit. Here are some of the ways Birks can enhance your outdoor experience:
Shock Absorption
Birkenstocks feature a cork and latex footbed which offers excellent shock absorption for both short walks and challenging hikes alike. The contoured shape of the footbed moulds to your feet giving you superior arch support.
Durability
Birkenstocks are incredibly durable and can withstand wear and tear from long hikes. They also feature a water-resistant suede which makes them ideal for wetter climates or even stream crossing during a hike. By investing in Birks you know your shoes will last you many years of hiking adventures.
Lightweight & Breathable
Birkenstocks are lightweight and breathable making them an ideal choice for long hikes. The adjustable straps also mean you have a secure fit to prevent your feet from blisters and chafing.
Eco-Friendly
Birkenstocks are crafted with environmentally friendly materials such as cork which is harvested sustainably. They also use eco-friendly glues that are free of toxins, making them the perfect choice for the eco-conscious hiker. [8]

Disadvantages of Hiking With Birkenstocks
Although they are often touted as the perfect shoe for hikes, Birkenstocks can also come with some drawbacks. Here are a few of them:
Uncomfortable for long distances: Birkenstocks don't provide much cushioning or shock absorption, which makes them a poor choice for long hikes or treks on rough terrain. Instead, you should opt for shoes with thicker soles that offer better support.
Poor traction: Another downside of Birkenstocks is that they don't provide very good grip on wet or slippery surfaces. This can make it difficult to climb hills and traverse uneven terrain safely.
Poor temperature regulation: Since they are made of leather, Birkenstocks can get very hot in the sun and can be uncomfortable to wear if the temperature is too warm. [9]
Is It Worth It to Take Spare Footwear on a Hike?
Many hikers select to take an extra pair of shoes or boots with them on their journey, as it can be inconvenient and uncomfortable to hike in wet or dirty footwear. Taking a spare pair of shoes is particularly important if you plan on doing any water-based activities, such as crossing streams or wading through swamps.
The key factors to consider when deciding whether to bring spare footwear are comfort and convenience. If you have an extra pair of shoes that you can switch into when your current ones become uncomfortable, this will make the hike more enjoyable. Also, if there's a chance your shoes may get wet, mud-caked or damaged during the course of the hike, having a spare pair can be a lifesaver.
Сonsider the weather. If you're likely to encounter rain, snow or muddy patches on your hike, it may be worth bringing an extra pair of shoes so that you don't end up with wet feet.
All in all, taking a spare pair of shoes for your outdoor adventure is generally a good idea. Although they might add a bit of weight to your bag, they can be a lifesaver if you find yourself in an uncomfortable situation. Plus, having the option to switch between two pairs of shoes can increase your comfort and make for a more enjoyable journey. [10]

Considerations for Long Hikes
Before you embark on a long hike, there are several considerations to take into account. Taking time for proper preparation can help ensure your success and safety:
Know the Trail: Make sure you have a good understanding of the trail and route you are planning to take. Check if there are any closures or warnings regarding your planned route, as well as the weather conditions that may affect it. Research any areas of potential danger, such as rocky terrain or deep water crossings, and plan accordingly.
Gear: Be sure to pack the right gear for your hike. Make a list of all necessary items, such as clothing, water, snacks, shelter, and first aid kits. Pay particular attention to the type of footwear you should wear; sturdy hiking boots are recommended for longer treks.
Food and Water: It is important to stay adequately hydrated and nourished throughout your hike. Bring a variety of snacks and meals that can provide you with enough energy for the duration of your trek. Bring at least two liters of water for each day you plan to be on the trail, but have an additional reserve in case of an emergency.
Safety: Proper safety measures should always be taken when going on a long hike. Have a plan in place for any potential risks or danger, and make sure to bring a communication device such as a cellphone or satellite phone in case of an emergency. Additionally, be sure you have the right navigation equipment to help you find your way home safely.
Take Breaks: Taking regular rest stops is essential on longer hikes. Be sure to take time to refill your water bottles and refuel with snacks. This can help you stay energized and alert for the duration of your trek.
Bring Company: Going on a long hike is more enjoyable when done in the company of others. Bring a friend or group of friends for added safety, as well as companionship along the trail.
Enjoy Yourself: Above all else, take the time to enjoy yourself and appreciate the natural beauty around you. Don't forget to bring a camera so you can capture all of your memorable experiences! [11]
FAQs
Is it OK to walk long distances in Birkenstocks?
Yes, it's perfectly fine to go for a long hike in Birkenstocks. The sandals are designed with arch support and shock absorption to make them ideal for any outdoor activity. Plus, the breathable leather footbeds wick away moisture, so your feet stay cool and comfortable during even the longest treks. Whether you're headed out on a day hike or a multi-day backpacking adventure, Birkenstocks are the perfect choice.
What not to do with Birkenstocks?
Although Birkenstocks are perfect for everyday adventures, they may not be ideal for more extreme activities. If you plan on taking off on a backpacking or hiking trip, Birkenstocks might not be the best choice. The sandals are made from lightweight and flexible materials that provide great cushioning and comfort during everyday walks, but their soles are not strong enough to handle the rigors of rock-climbing and other strenuous activities. Additionally, Birkenstocks are not waterproof, so they won't keep your feet dry when traipsing through streams or puddles.
Is it safe to hike in sandals?
The answer depends on several factors, including the terrain you'll be walking on and the length of your hike. If you'll be taking a short walk on slightly uneven terrain, Birkenstocks may provide enough protection for your feet. However, if you are going to be walking on more rugged or steep surfaces, they may not offer adequate support and cushioning.
You'll also want to consider the materials of the sandals you plan to wear. Birkenstocks are usually made of leather, which may not provide the best grip on slippery surfaces like mud or wet rocks. If you're planning a longer hike in more difficult terrain, investing in a pair of hiking shoes or boots can offer better protection and support for your feet.
Are Birkenstocks good to wear all day?
Birkenstocks are one of the most popular footwear brands on the market, and many people swear by them for comfort and style. But can you wear them all day? Absolutely! Birkenstocks provide superior arch support, shock-absorption, and durability that your feet will thank you for throughout the day. Plus, their stylish designs make them perfect to wear for any occasion. Whether you're headed to the office, out for a day of sightseeing, or just running errands around town, Birkenstocks are sure to keep your feet comfortable and looking great all day long. So go ahead and take that hike in your favorite pair of Birks! Your feet will thank you.
Useful Video: I hiked the Green Corridor in Birkenstock Sandals
The Bottom Line
Overall, it seems that if you are looking for an alternative to your traditional hiking and outdoor shoes, Birkenstocks are a great option. While they may not provide the same amount of ankle support as traditional boots, their comfortable cushioning makes them great for long days on the trails. Plus, they are much easier to pack and carry along! It is important to remember when deciding whether or not Birkenstock footwear is right for you to take into consideration the type of terrain you will be walking on and how long your hikes may be. Additionally, investing in a pair with good arch support can help ease strain on your feet over time so your shoes can last throughout many outdoor excursions. With some research and careful selection based on hiking needs, Birkenstocks can easily become a welcome addition to any hiker's outdoor gear!
References:
https://www.purewow.com/fashion/what-to-wear-hiking
https://www.rei.com/learn/expert-advice/hiking-boots.html
https://www.salomon.com/en-dk/outdoor/outdoor-advice/how-choose-your-hiking-boots
https://www.gearpatrol.com/style/shoes-boots/a33626711/birkenstock-sandals/
https://www.allsole.com/blog/style/buyers-guide/birkenstock-buyers-guide-everything-you-need-to-know/
https://www.birkenstock.com/nl-en/things-to-know/footbed/
https://www.cravetheplanet.com/hiking-in-birkenstocks/
https://hikersdaily.com/hiking-in-birkenstocks/
https://grandcircletrails.com/are-birkenstocks-good-for-hiking/
https://decideoutside.com/do-i-really-need-hiking-shoes/
https://australianhiker.com.au/advice/7-considerations-for-choosing-a-hike/