Putting Together the Perfect Outfit Featuring Hiking Boots & Jeans
Have you ever wanted to create the perfect outfit featuring hiking boots and jeans? If so, this guide is perfect for you! We'll provide all the information you need to know about how to wear hiking boots with jeans while also giving you helpful style tips. Hitting the trails or taking a leisurely stroll has never been easier and trendier!
Comfortable and Stylish Ways For Wearing Hiking Boots With Jeans
For both men and women, wearing hiking boots with jeans is a classic style. It's comfortable, stylish, and can be dressed up or down for any occasion. Plus, with the right fit of jeans and the perfect pair of hiking boots, you'll look great and feel even better!
Start by selecting the type of boot that suits you best. If your style is more rugged or outdoorsy, then opt for chunky leather mountaineering or trail-style boots. For a dressier look, try lighter weight footwear such as suede or leather ankle booties.
If you're looking for a dressier outfit option, try teaming your hiking boots with slim-fitting trousers or slim denim in darker shades such as black or navy blue. This will create an edgier look that is still smart enough for formal occasions. Alternatively, if you're going for more of a casual look, consider wearing your boots with some distressed denim.
Finally, accessorize to make the look more interesting and pull it all together. Layer up with a fitted jacket or blazer for added warmth and style points, or try out a statement belt or colorful scarf to add a touch of personality to your outfit. And don't forget – be sure to always keep the rest of the outfit simple and uncluttered; this will ensure that you look smart and stylish whatever the occasion!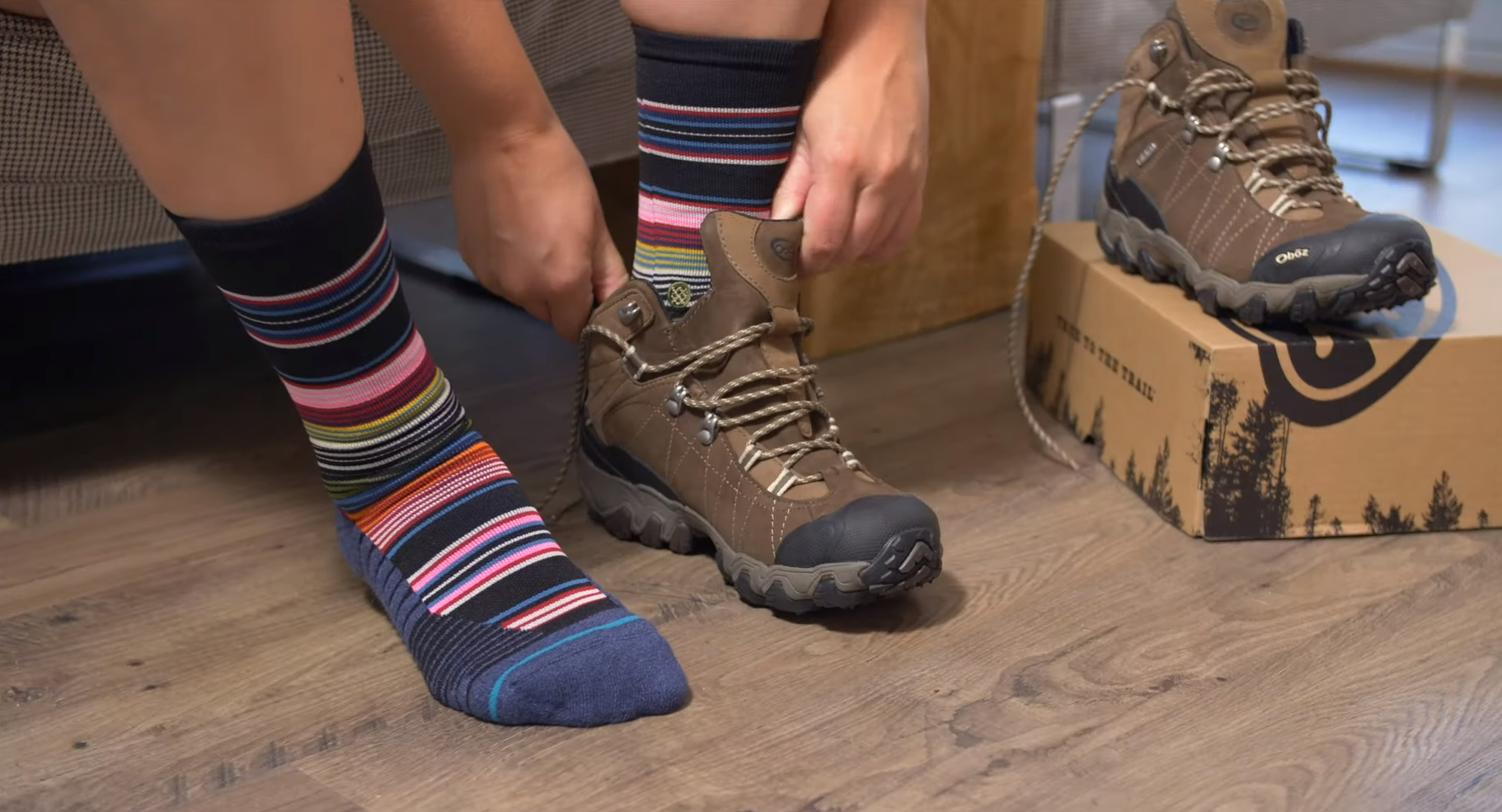 Find Jeans With the Proper Length
When wearing hiking boots with jeans, it's important to make sure that the jeans are the proper length. The goal is for them to be just long enough to cover the top of your boots and fall naturally around them. Avoid jeans that are too tight or too long – both will make you look sloppy and uncomfortable. You may need to try on several pairs of jeans until you find one with the perfect fit. Once you have found a pair that fits well, make sure they don't ride down when you move around or bend over. If they do, then they may be too wide in the thighs and require alterations to prevent sliding down throughout the day.
In addition, if your hiking boots have laces, make sure that the jeans are long enough to prevent them from being visible. This will ensure that your look is neat and pulled together.
Try Cuffing Your Jeans
An easy way to make the pairing less bulky is by cuffing your jeans. The extra fabric around the ankles tends to create a better balance between the two pieces of clothing, making it look more intentional. Plus, who doesn't love a great pair of cuffed jeans? It's much easier to style hiking boots with something that has this kind of silhouette. A good rule of thumb is to cuff your jeans once or twice depending on how long they are and which style you prefer. Be sure not to overdo it, though — too much fabric and bulk can make it difficult for you to move freely.
Go For Loose-Fitting Jeans
When you plan to wear hiking boots with jeans, make sure the fit isn't too tight. Skinny jeans are not the most ideal choice for this look; they can be uncomfortable and constricting. Instead, opt for looser-fitting styles that provide enough room for your feet to move around comfortably in your boots. Bootcut or straight-leg jeans work best for a casual look while still creating an aesthetically pleasing silhouette.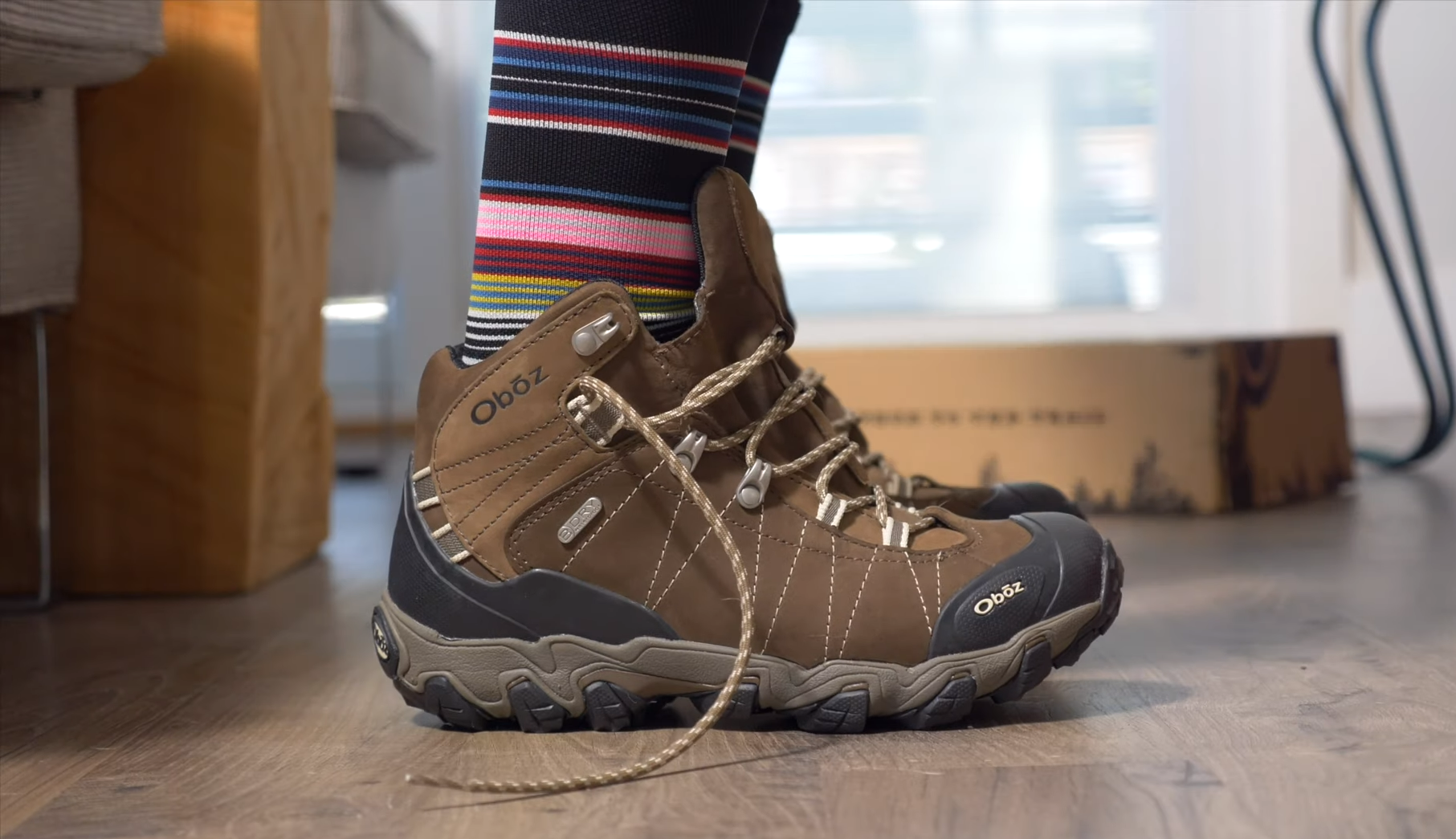 Try Out Different Types of Jeans
Experiment with different types of denim. The goal is to find a pair that looks good and feels comfortable when combined with your favorite hiking boots. Some of the most popular jeans for this look are skinny, straight leg and slim-fit styles. You can also opt for cropped or ankle-length jeans which will show off more of your boots. Additionally, try out various shades of blue like dark indigo or light wash denim to add some visual variety. Finally, don't forget about distressed jeans as they can give any outfit an edgy vibe when paired with hiking boots. With so many options available, it's easy to create stylish and practical outfits with these two wardrobe staples!
Choose the Proper Fit For Hiking Boots
When choosing a proper fit for your hiking boots, look for something that is laced up and fits snugly around the lower legs and ankles. It should feel comfortable yet secure at the same time, with enough room to move your feet without feeling cramped or uncomfortable. If you want extra padding and support, consider buying insoles specifically designed for hiking boots.
When doing outdoor activities such as hiking, it's important to protect your feet from injury by investing in proper footwear that fits correctly. Lacing up your boots tightly will also help keep them secure while you are walking or running over uneven terrain. Take your time when choosing the best boots for your feet, as a good fit can make all the difference in how comfortable they are during your hikes.
Choose Flexible Colors
One way to make sure that your hiking boots and jeans look great together is to choose flexible colors. If you're wearing dark blue or black jeans, try pairing them with lighter brown or tan boots. If you have light-colored jeans, go for darker-hued boots for a complementary look. This will help create a natural contrast and give you an overall stylish outfit that is also practical for any outdoor adventure!
Finally, don't forget accessories. Hats and scarves can help tie the entire outfit together and add an extra layer of warmth on cold days. With a few simple touches, you can easily create a fashionable and functional outdoor style!
Tuck In Your Jeans
A crucial tip to keep in mind when wearing hiking boots with jeans is to make sure to tuck your jeans in. This will help keep your look sleek and stylish, and it will also prevent any fabric from bunching up around your boots. If you're wearing a longer pair of jeans or trousers, be sure to roll them up slightly at the bottom so they don't appear too bulky. You can also try cuffing them near your ankle for an on-trend look.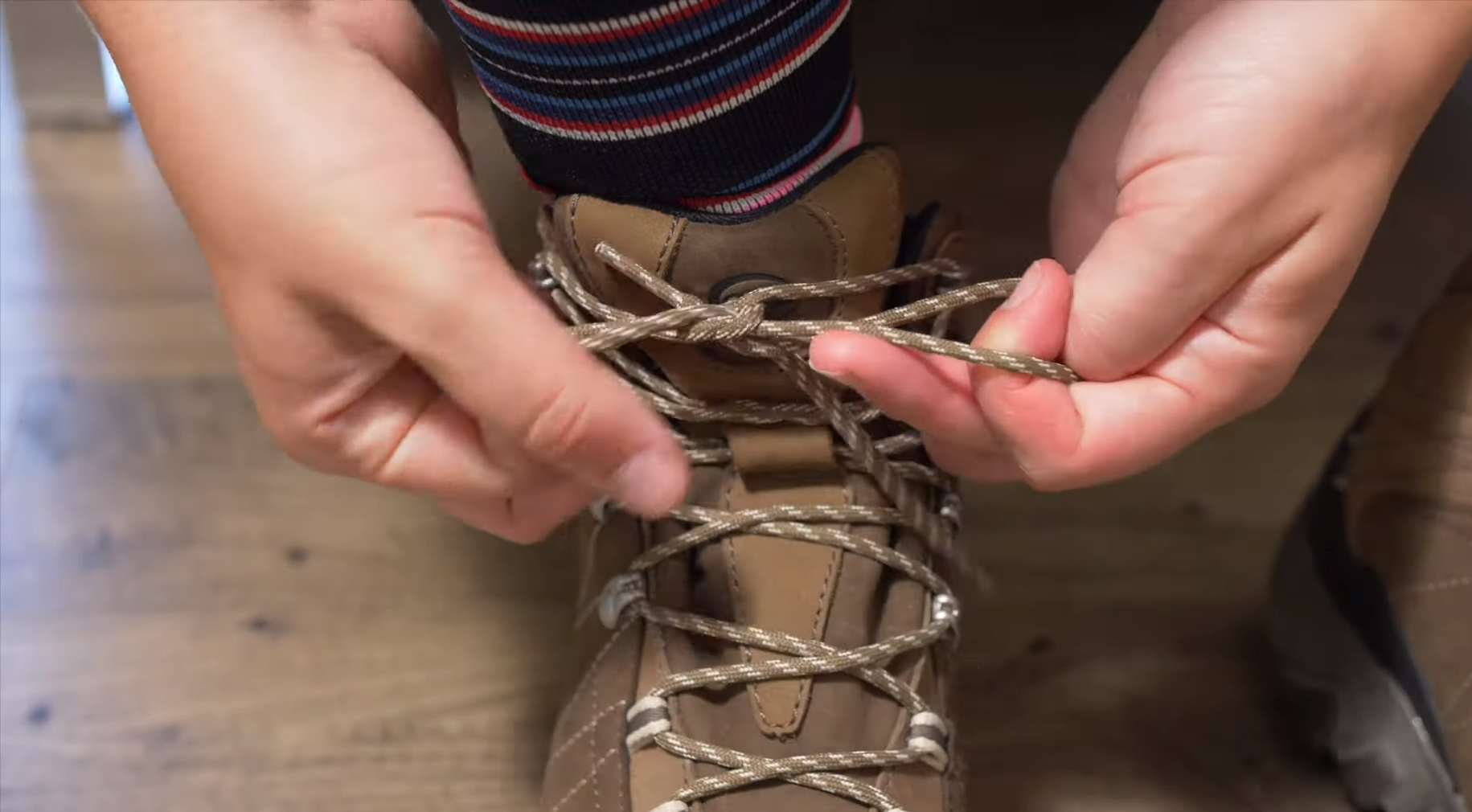 How To Wear Hiking Boots With Jeans?
Hiking boots can be worn with jeans for a casual look or dressed up for a more formal event. Here is how you can rock the trend and make your outfit stand out:
Start off by choosing the right pair of boots. Ensure they fit comfortably and don't pinch anywhere.
For a more relaxed look, opt for lighter colors like white or tan. These will complement your jeans nicely without overpowering them.
If you want to dress things up, go for black or brown hiker boots that have buckles or other embellishments on them. The additional detail will give your look an edgy touch.
For a more dressy look, pair your jeans with suede or leather boots. This will lend an extra touch of sophistication and class to your outfit.
Finish off the look with a nice belt and accessories such as scarves or jewelry. These will tie the whole ensemble together perfectly!
For those who want to make sure that their hiking boots are seen, you can also cuff your jeans slightly to show them off even more.
Types of jeans for hiking
There are diverse types of jeans you should consider when looking for the perfect combination to pair with your hiking boots. Skinny and slim-fit jeans can give you a sleek look, but may not provide enough room for thick socks or protection from debris. Bootcut jeans are great if you want to show off your hiking boots without having to worry about too tight of a fit. Flared and wideleg jeans can also be an excellent choice – they'll keep your pants out of the way when walking and will help protect your lower legs and feet from any potential hazards on the trail. Ultimately, it's important that whatever type of jeans you pick, they should be comfortable enough to move around in freely while providing ample coverage and protection.
Straight jeans
Straight jeans are a classic style and can be worn with your hiking boots in so many ways. The trick is to match the color of your jeans with the color of your boots, for a more polished look. If you choose dark jeans, opt for a darker colored boot; if you choose light-colored denim, select a lighter shade of boot. For an outdoorsy feel, wear a pair of slim-fitting straight leg jeans with rolled cuffs over your hiking boots. Choose neutral colors like navy or tan to keep things looking smart and stylish without going overboard. Add some accessories like colorful scarves or patterned socks to add even more interest to the outfit.
If you're feeling daring, try out a pair of bold patterned jeans with neutral-colored boots. The contrast between the two can create an eye-catching effect that will set your outfit apart from the crowd. For a more subtle approach, try pairing light washes of denim with chukka style boots in earthy tones like brown or olive green.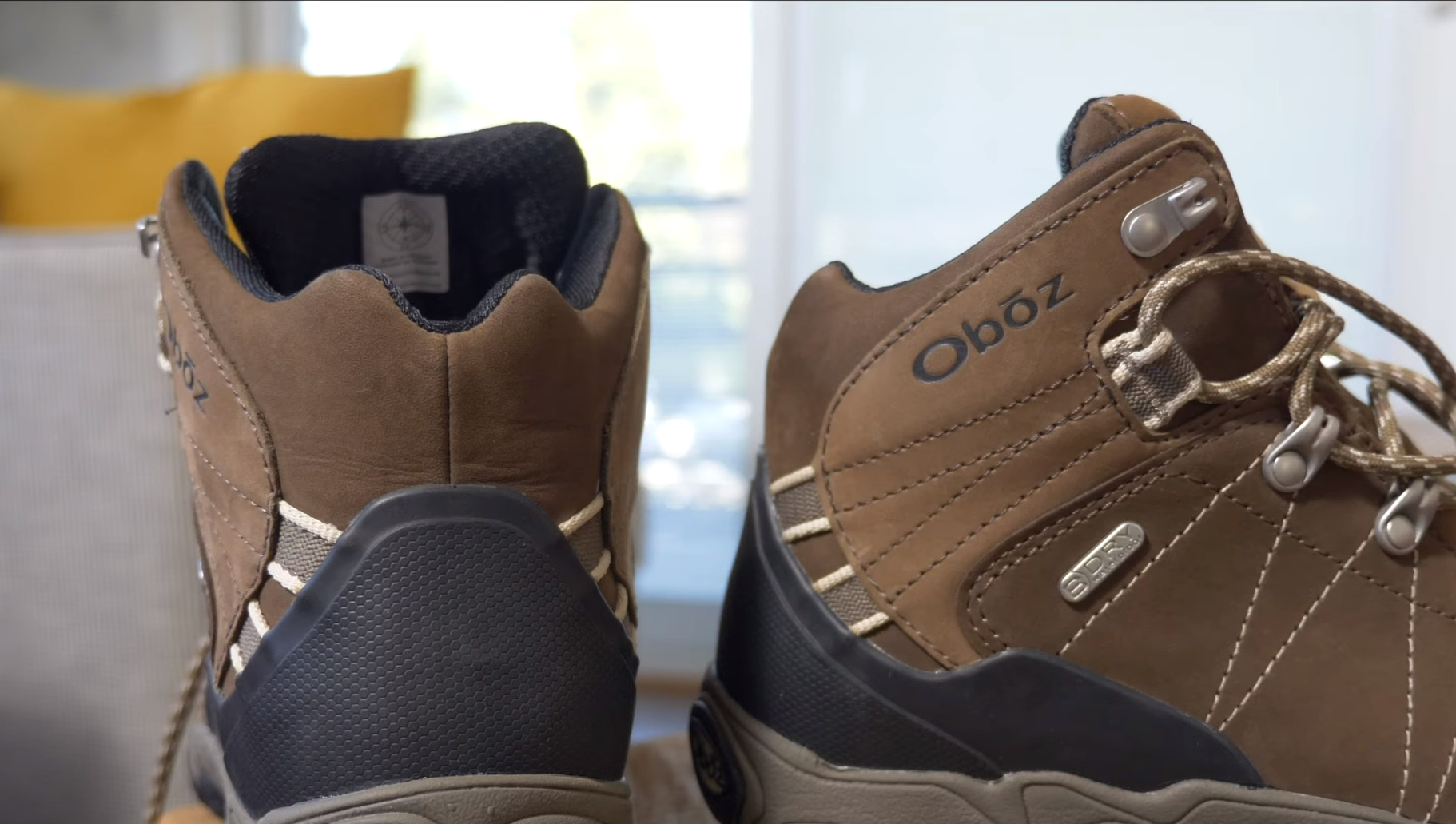 Skinny jeans
Skinny jeans are another classic style that looks great when paired with hiking boots. The combination is an excellent way to add some texture and depth to your look, while keeping things sophisticated and stylish. When selecting skinny jeans for this look, go for darker colors like black or navy – these hues will pair well with most hiking boots.
To really make your outfit pop, wear a dark wash skinny jeans with bright-colored boots. This style is perfect for embracing the outdoorsy vibe of your footwear, while still appearing chic and put together. To take things up a notch, tuck in a chambray or flannel shirt for an extra layer of warmth and texture. Add on some accessories like a belt or hat to complete the look.
Bootcut or relaxed jeans
If you're going for the classic, outdoorsy look, then bootcut or relaxed jeans are the way to go. The wider leg of these jeans will balance out your shoes and give you a smart yet comfortable outfit. Roll up the hems slightly so they sit just above your ankles and pair with a casual T-shirt or flannel shirt for an effortless weekend look.
Stretchy jeans
Stretchy jeans can offer more flexibility than regular ones, so they may be more comfortable when paired with boots. Plus, they don't have to fit as snugly around your legs and feet since there is some give in the fabric. If you have a pair of skinny or slim-fit jeans that are made from a stretch material, these will work best for wearing with hiking boots. Try rolling up the bottoms of your jeans slightly so that they don't bunch up around your ankles – this will ensure a neat look and help keep you comfortable while walking. Alternatively, you could also try tucking your jeans into your boots for a trendy, outdoor style.
Kick flare jeans
Kick flare jeans look great with hiking boots. The slightly flared cut of the jeans makes them flow nicely over your boot, giving you a stylish vibe. Make sure to tuck in your top to show off your outfit, and add a belt for extra style points. If you want to keep it casual, wear some simple jewelry or minimal makeup – this will draw attention to your outfit without stealing the show from it. For an edgier look, try wearing ripped jeans with your hiking boots and accessorize with a few statement pieces. This look is perfect for those chilly days out on the trails!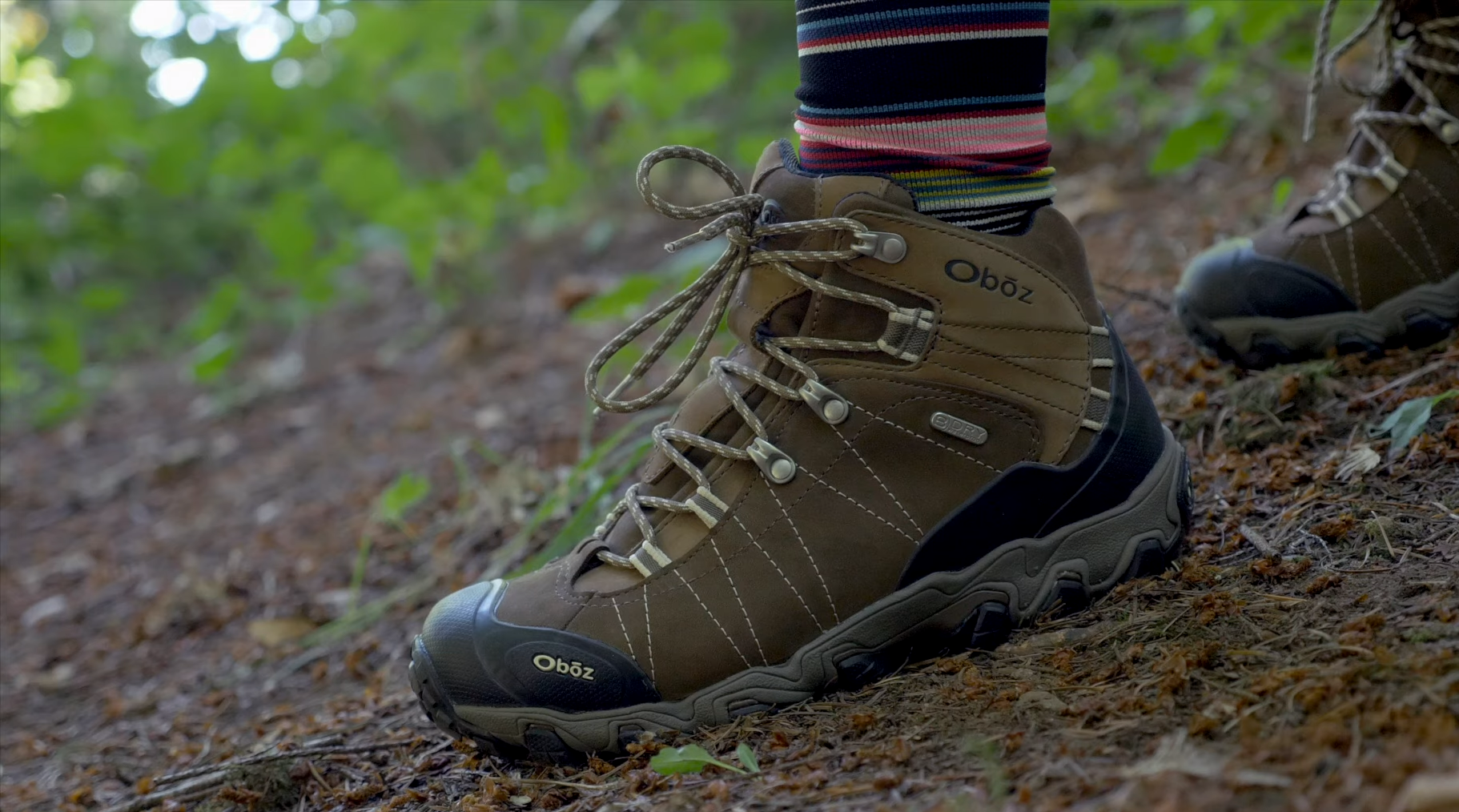 Cropped jeans
Cropped jeans are another way to wear hiking with jeans. This style forms works great for women and men alike. To achieve this look, you can go with straight-leg or bootcut jeans that hit right below the ankle or above the knee. For a more casual vibe, go with rolled up hems and add a pair of thick socks to keep your ankles warm. To avoid looking too bulky, it's advised to stick to dark wash denim or neutral colors such as black, brown, or navy. Finish off the look with a cozy top like a flannel shirt or a chunky sweater and you'll be ready for an outdoor adventure! [1]
How to style jeans with hiking boots
Here are some tips on how you can pull off the perfect combination of jeans and hiking boots:
Opt for skinny or slim-fit jeans – Classic straight-legged jeans will work great, but if you want to stay ahead of the trend, try going for slim or skinny-fit styles. The tighter silhouette will help add balance to your outfit by offsetting the bulkiness of your boots.
Experiment with colors – While most people opt for neutral tones like beige or brown when wearing hiking boots, don't be afraid to experiment with diverse colors! Try pairing an olive green or even a bright blue pair of jeans with your boots for a more unique look.
Roll up the hems – To show off that awesome pair of hiking boots, ensure to roll up the hem of your jeans! This will give you an extra bit of style while also making sure that everyone can appreciate those awesome shoes.
Add layers – Layering is key when it comes to any outfit, and wearing jeans with hiking boots is no exception! You can opt for classic items such as sweaters and jacket, but really let your creativity flow when it comes to styling this look – adding in some scarves, cardigans, and hats could create an interesting overall look.
Tuck jeans in
Tucking in your jeans will give you an edgy, stylish look that will make you stand out from the crowd. If your jeans aren't long enough, you can simply cuff them up once or twice and they'll still look good with hiking boots. Not only does this create a nice combination of casual and formal styles, but it also helps keep debris out of your boots as you hike. Just make sure that the cuffs are tight enough so they don't come undone while walking!  Additionally, if you're going for a more rugged style, rolling up your jeans gives you a carefree but cool vibe. No matter how you decide to wear your jeans with hiking boots, just make sure they look good and are comfortable. With the right combination of clothing items, you can create a unique yet stylish look that will last you through any outdoor adventure!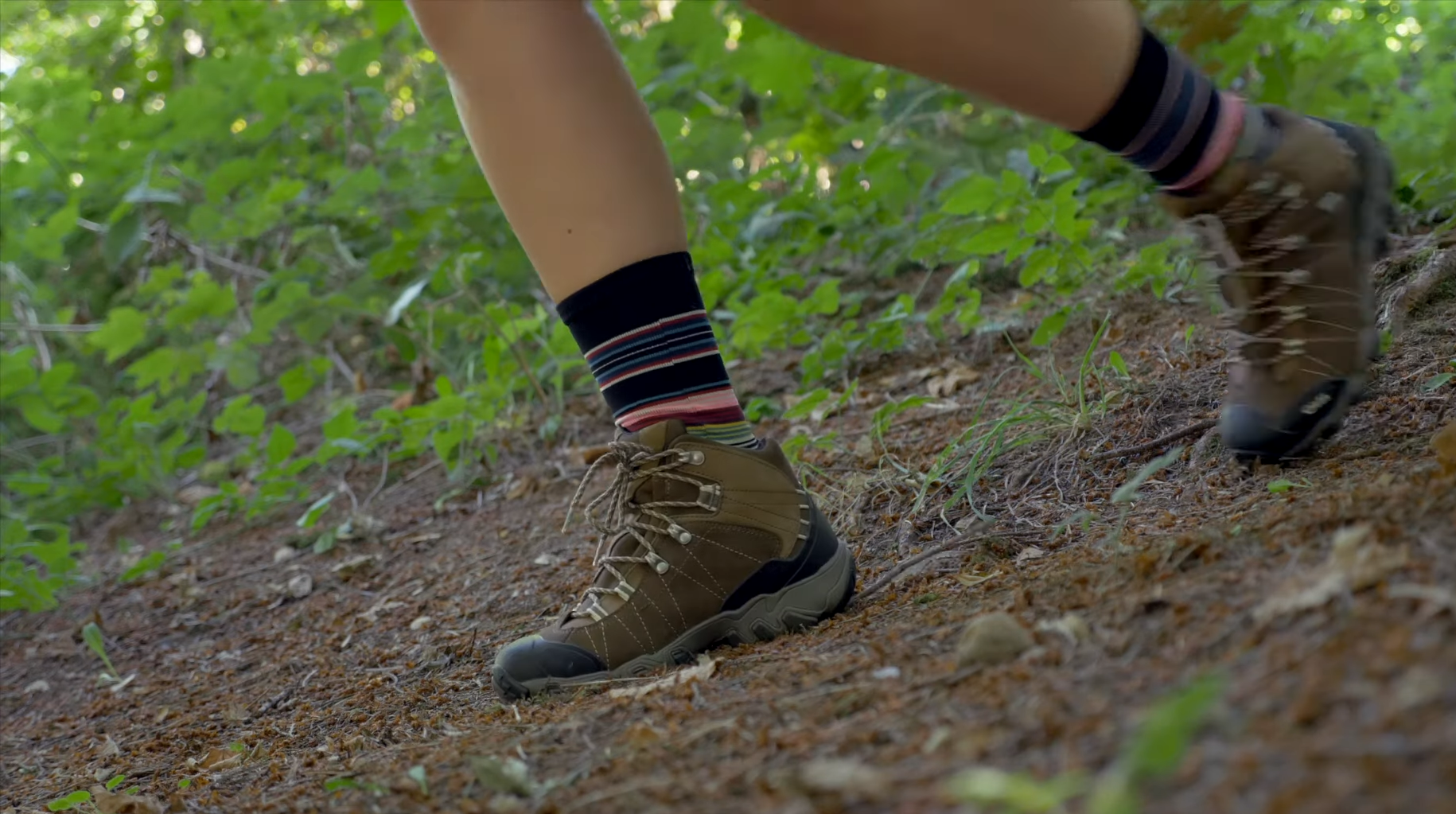 Wear socks over jeans
It is important to wear socks over your jeans when you are wearing hiking boots with jeans. This will help prevent the fabric from interlocking, which can cause blisters and other unpleasantness. It will also help keep your feet warm and dry. Furthermore, you should look for socks that have some padding as they will provide extra cushioning against the hard ground or surfaces you might be walking on during hikes. Make sure to choose socks made of a breathable material such as wool or polyester so that your feet stay feeling comfortable all day long. Last but not least, it's always good to go for something bright or patterned; this will give you a little bit of style even if you're keeping it casual. You'll be surprised how far a pair of colorful socks can go!
Roll them over boots
When wearing jeans, you may want to try pairing them with a pair of high-top hiking boots. This look is particularly good if your jeans are loose or baggy and you want to create the impression of a slimmer silhouette. To achieve this style, simply roll over the top of your boots for a less bulky, tailored appearance. If you have some extra time on your hands, why not accessorize with some stylish laces? And don't forget to tuck in any extra material from the legs of your jeans when rolling them into place – this will ensure that everything looks neat and tidy.
Wear over boots
For a casual look, wear hiking boots over boot cut or straight leg jeans. Make sure to tuck the bottoms of your jeans into the top of the boots and roll them up until they are just above the ankle. This will give you an effortless, stylish look that is perfect for running errands or a day out with friends. To complete the outfit, add a cozy sweater and statement jacket or coat. [2]

FAQ
Can you wear jeans with hiking boots?
Of course! You can always wear jeans with hiking boots. It's an easy combination and one that looks great too. Just make sure you choose the right fit for your jeans and hiking boots, so everything hangs correctly on your body. Also, think about the colors of both items to ensure they match well together. With a bit of thought and consideration, you'll be able to pull off this stylish look easily!
Can I wear hiking shoes with jeans?
Yes, you can wear hiking shoes with jeans! This is a great way to add an outdoor-inspired look to any outfit. To make sure your ensemble looks stylish and put-together, there are a few tips that will help you get the most out of this trendy combination.
First off, consider which type of jeans you plan on pairing with your hiking shoes. Loose-fitting or straight leg styles look best when paired with chunky boots like hiking shoes. Skinny jeans should be avoided because they will create an unflattering silhouette when worn with bulky footwear.
When it comes to colors, pick something classic that will complement the earth tones of the boots. Dark wash blues and blacks are always safe bets and will go great with most hiking shoe colors.
For a truly eye-catching look, you can mix and match different shades of brown between your boots and jeans. For instance, if you have tan hiking boots, try wearing a pair of light-wash jeans to create an interesting contrast.
Finally, make sure that the length of your jeans is long enough so they cover the entire boot. This will give your outfit a more polished look and prevent any skin from peeking out at the ankles. [3]
So don't be afraid to break out those trusty hiking shoes when getting dressed! With these tips in mind, you should be able to successfully pull off this trendy combo for whatever occasion comes your way!
What kind of jeans go best with hiking boots?
When it comes to wearing hiking boots with jeans, you want to pick something that will provide a bit of protection but still be comfortable. Look for a pair of jeans that have reinforced knees and pockets, as well as a slightly higher rise in the back to protect your lower back. This type of jeans will give you an extra layer between your skin and the harsh elements that may come with outdoor activities or even just walking around town.
When choosing colors for your jeans, think about what colors match nicely with whatever style of hiking boot you're wearing. Darker blues are classic and timeless, while lighter washes can help bring out the detail in some boots. Whatever color you choose, make sure they fit nicely and snugly, so you can get the most out of your hiking experience. [4]
Finally, don't forget to accessorize! Belts and scarves are great ways to add a bit of flair to an otherwise classic look. Experiment with colors and textures to see what works best for you. Remember that whatever looks good on your body is ultimately up to you — but with the right pair of jeans and some well-chosen accessories, you'll be ready for whatever adventures come your way.
Can you wear hiking boots casually?
Yes! Hiking boots are quite versatile, and you can certainly wear them casually. If you're looking for an easy way to elevate your everyday look without compromising on comfort, pairing hiking boots with jeans is always a good option. The key is understanding how to style them so they look stylish rather than sloppy. [5]
The first step in creating an outfit that looks polished and put together is picking the right colors. Color matching is essential when wearing any sort of footwear, but especially with hiking boots.
Choose a pair of jeans that contrasts or complements the color of your hiking boots as this will create an aesthetically pleasing look. If you're wearing dark brown or black hiking boots, opt for a lighter shade of jeans such as light blue or tan. On the other hand, if you have light-colored hiking boots, go for darker shades like navy blue or gray.
Depending on where you're headed and what you plan on doing, there's no set rule for which top to select. However, you'll want to choose something that's casual yet stylish at the same time.
If you're going out in warmer weather, a graphic tee and an open flannel shirt are always great options. For cooler days or nights, try a hoodie or sweater paired with a denim jacket for an on-trend look.
Useful Video: MEC: How to fit hiking boots
Conclusion
Now that you know how to wear hiking boots with jeans, you can feel confident in your stylish and practical outdoor ensemble. This look is suitable for both your casual errands in town and your adventurous outings, ensuring both your feet and fashion sense remain content. With the right choice of materials and accessories, you can create a look that is comfortable, fashionable, and functional. So don't be afraid to embrace the outdoors and mix it up with some denim! Happy trails!
References:
https://fromyourtrails.com/how-to-wear-hiking-boots-with-jeans/
https://hikingdiary.com/wearing-hiking-boots-with-jeans/
https://purehiker.com/wearing-hiking-boots-with-jeans/
https://howtostyle.com/how-to-wear-hiking-boots-with-jeans/
https://thehikinghelper.com/can-you-wear-hiking-shoes-every-day/