If you are looking for a breathtaking exploration of nature, look no further than Maine's incredibly scenic hiking trails with waterfalls. There is something special about standing in front of cascading waters and taking in the beauty that Maine has to offer. In this guide, we explore the best hiking trails that feature some of the most picturesque waterfalls in Maine. Let's get started on your journey to experience the stunning beauty of Maine's hikes with waterfalls!
Stunning Maine Waterfall Hikes to Add to Your Bucket List
If you're looking to explore the wild nature of Maine, then a hike featuring beautiful waterfalls is an absolute must. From remote cascades tucked deep in the woods to dramatic plunges over towering cliffs, there are plenty of waterfall hikes throughout the state that will take your breath away.
To help narrow down your choices, we've compiled this helpful guide with all the essential information and tips you need for planning your perfect waterfall-filled hiking expedition. Whether you want to stay close to home or venture further out into the wilderness, our selection of stunning Maine waterfall hikes has something for everyone!
Read on to find out more about some of these incredible trails and get inspired for your next outdoor adventure!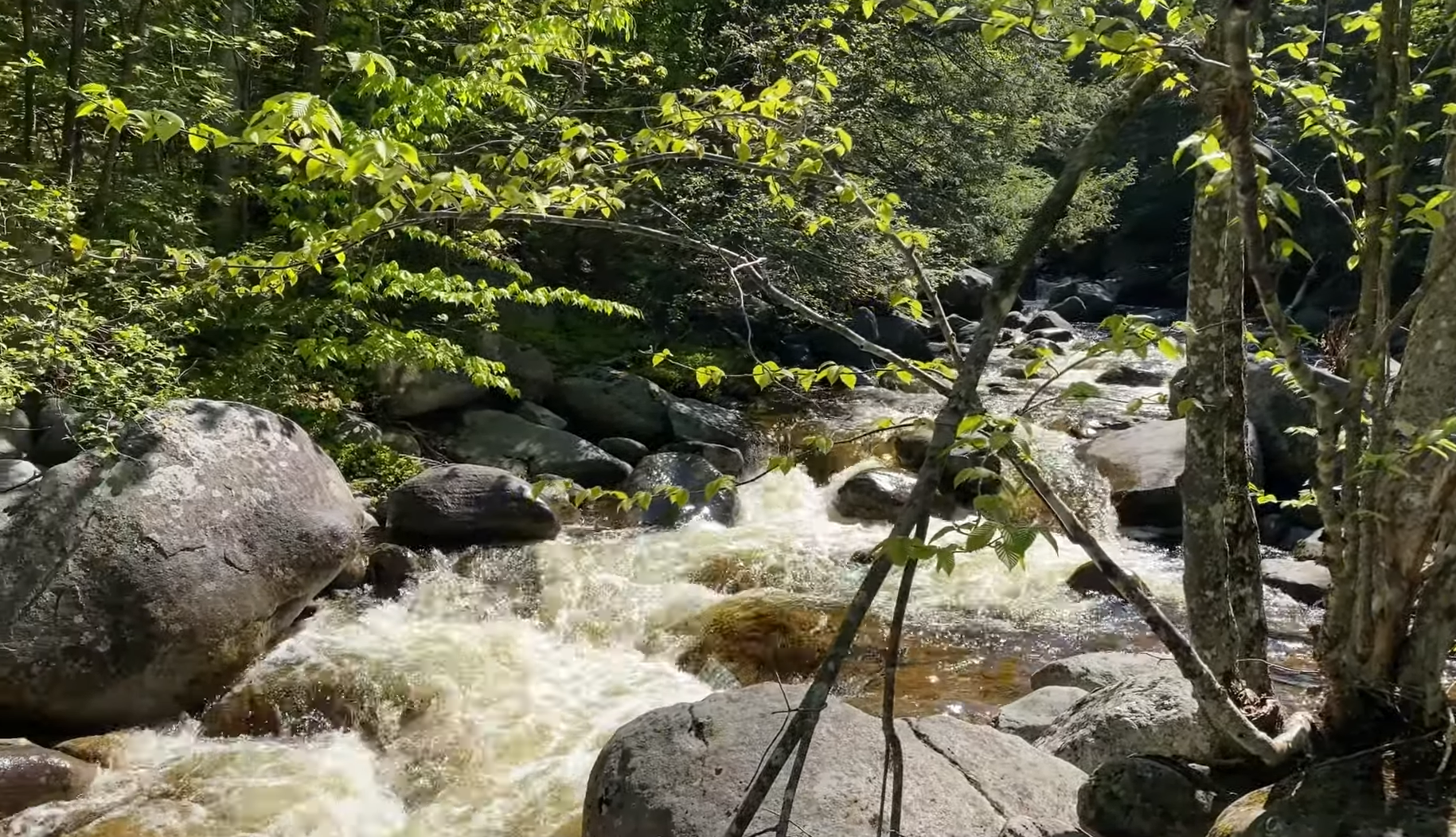 Angel Falls, Township D
Angel Falls is an ideal destination for hikers looking to explore the state of Maine. It's located in Township D and makes for a great day trip. The hike is relatively short, but the reward is worth it — the stunning views of Angel Falls at the end are sure to admire you. As you make your way through the picturesque mountain scenery, you'll have plenty of chances to rest and snap some photos along the way. When you finally reach the falls, you can enjoy their majestic beauty from multiple perspectives. Many visitors even choose to bring a picnic lunch so they can spend more time admiring them! Be sure to watch out for slippery rocks when exploring around Angel Falls — it's best to wear proper footwear with a good grip. With its stunning views, easy access and safe trails, Angel Falls is a great spot for hikers of all experience levels. So if you're looking for an enjoyable hike with beautiful waterfalls, add Angel Falls to your list!
Small Falls, Township E
The Small Falls trail is located in Township E, and provides an easy hike that's perfect for the whole family. The trailhead starts at a roadside parking lot and winds through the woods to the falls. This miniature cascade is about 10 feet tall and offers a peaceful atmosphere perfect for relaxation. To get there from I-95, take Exit 8 and follow Route 6A west for 4 miles until you reach County Road C. Turn left on County Road C and go another 2 miles to find the trailhead. The total hike should take about 45 minutes round trip, including time spent enjoying your scenic destination. Bring plenty of water, as well as mosquito repellent!
Screw Auger Falls, Grafton Notch State Park
Located in Newry, Maine, Screw Auger Falls is an easy trail with amazing views. The trail consists of an approximately 1-mile loop that takes you to the top of the falls and then down to the bottom. This is a great spot for families and kids as it is relatively short and well maintained.
You'll get to experience cascading waterfalls with deep pools below them, perfect for swimming or cooling off during warmer days. In addition, there are lots of opportunities for birdwatching here so keep your eyes open!
The trail also passes through a few sections of old-growth forest on its way to the falls, so you can take in some of Maine's natural beauty. Be sure to dress for the terrain and wear sturdy shoes as the trail can be quite rocky.
Whether you're looking for a short hike with amazing views or just want to cool off at one of Maine's most beautiful waterfalls, Screw Auger Falls is an ideal destination. With its easy access and kid-friendly trails, this is an amazing spot for a day of exploration and discovery.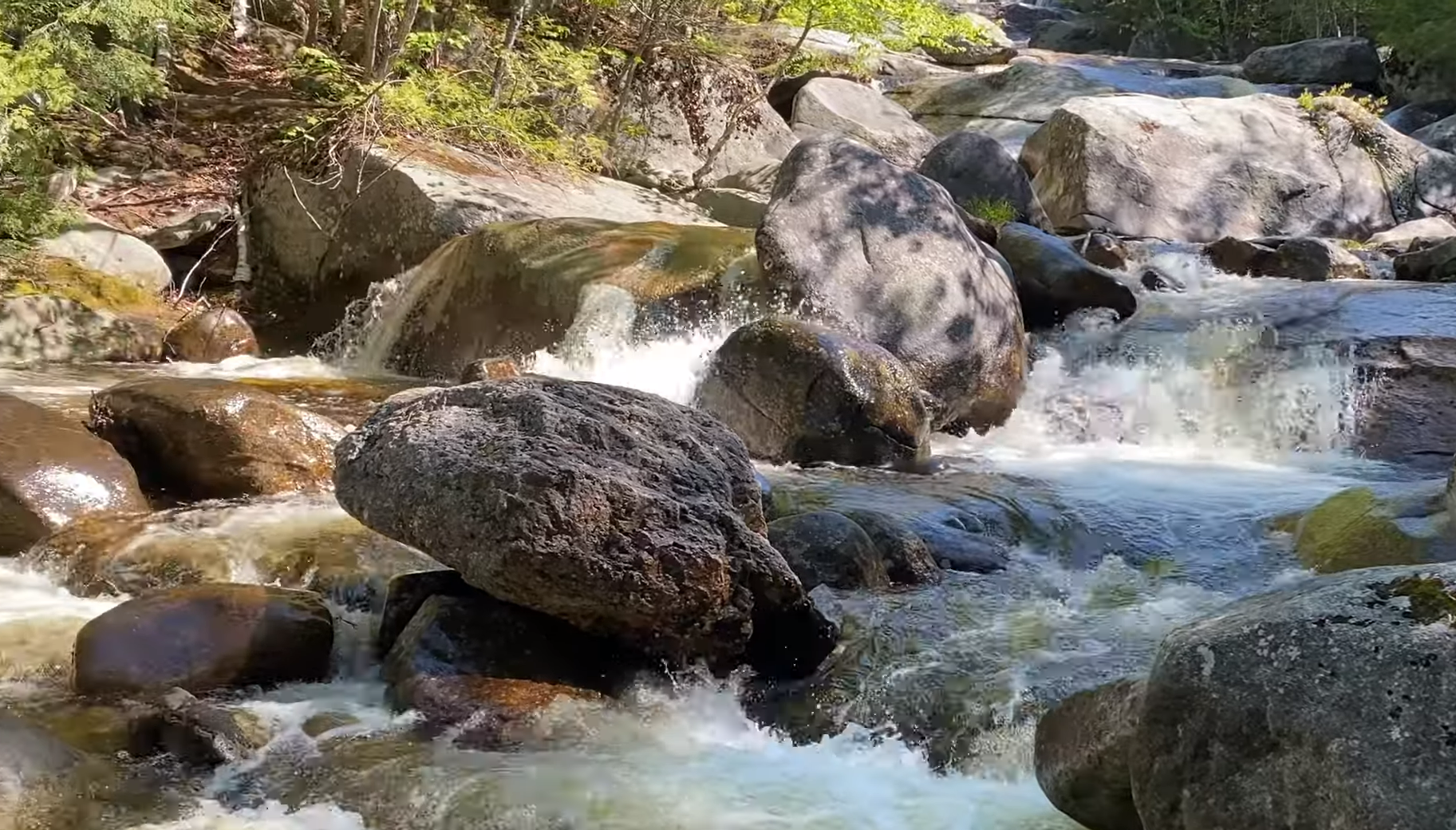 Moxie Falls, Moxie Gore
Moxie Falls is the highest and most voluminous waterfall in Maine. The cascading water plunges from a height of 90 feet into an inviting pool below. Reaching this majestic wonder requires hiking up a steep and rocky path for about two miles. But it's worth it! Not only will you be able to bask in the beauty of Moxie Falls but you can also take a refreshing dip in its waters and explore the surrounding forests. The best part? It's open year-round so you can enjoy it no matter when you visit. Make sure to wear sturdy shoes, bring plenty of water, and use caution — the rocks can be slippery!
Dunn Falls, Andover North Surplus
The Dunn Falls, located in Andover North Surplus, is an amazing spot for hikers looking to explore Maine's breathtaking waterfalls. This easy-to-moderate hike takes you through scenic forests and across a few streams before reaching the impressive 70-foot waterfall. After taking some time to take in the majestic views of this natural wonder, you can continue your journey along the trail until you reach a swimming area at the base of the falls where you can cool off from your hike. Make sure to bring plenty of water as there is no potable water source available along the trail. Additionally, you should also wear sturdy shoes with good grip for traversing over any slippery rocks along the way. Once you've made it up to the top, you'll be rewarded with one of Maine's most beautiful waterfalls!
Kees Falls, Batchelders Grant
Kees Falls is located in Batchelders Grant, a small town in rural Maine. This waterfall is one of the most beautiful in the state and its remote location makes it even more special. The hiking trail leading to Kees Falls winds through lush forests and picturesque riverside trails. You'll be able to take in all the natural beauty of this secluded spot while you make your way up to the falls. Remember to bring plenty of water as it can get quite hot during the summer months! Once you reach the falls, spend some time admiring its unique shape – this is not a typical waterfall with a straight plunge but rather an interesting series of cascades and smaller pools surrounded by dramatic rock formations. Whatever you do, don't forget to take lots of pictures – they will make for great memories of your hike!
For those who are more experienced, there is a challenging loop trail at Kees Falls that takes you up the canyon and back down again. The terrain can be quite steep in places so it's best to have sturdy shoes and clothing appropriate for the season. Be sure to bring snacks or lunch as there is no food available nearby. You can also spend some time swimming in one of the pools at the bottom of the falls – just remember not to climb on any rocks near the edge as they may be slippery. With its stunning views and serene atmosphere, Kees Falls is a must-see destination for nature lovers visiting Maine!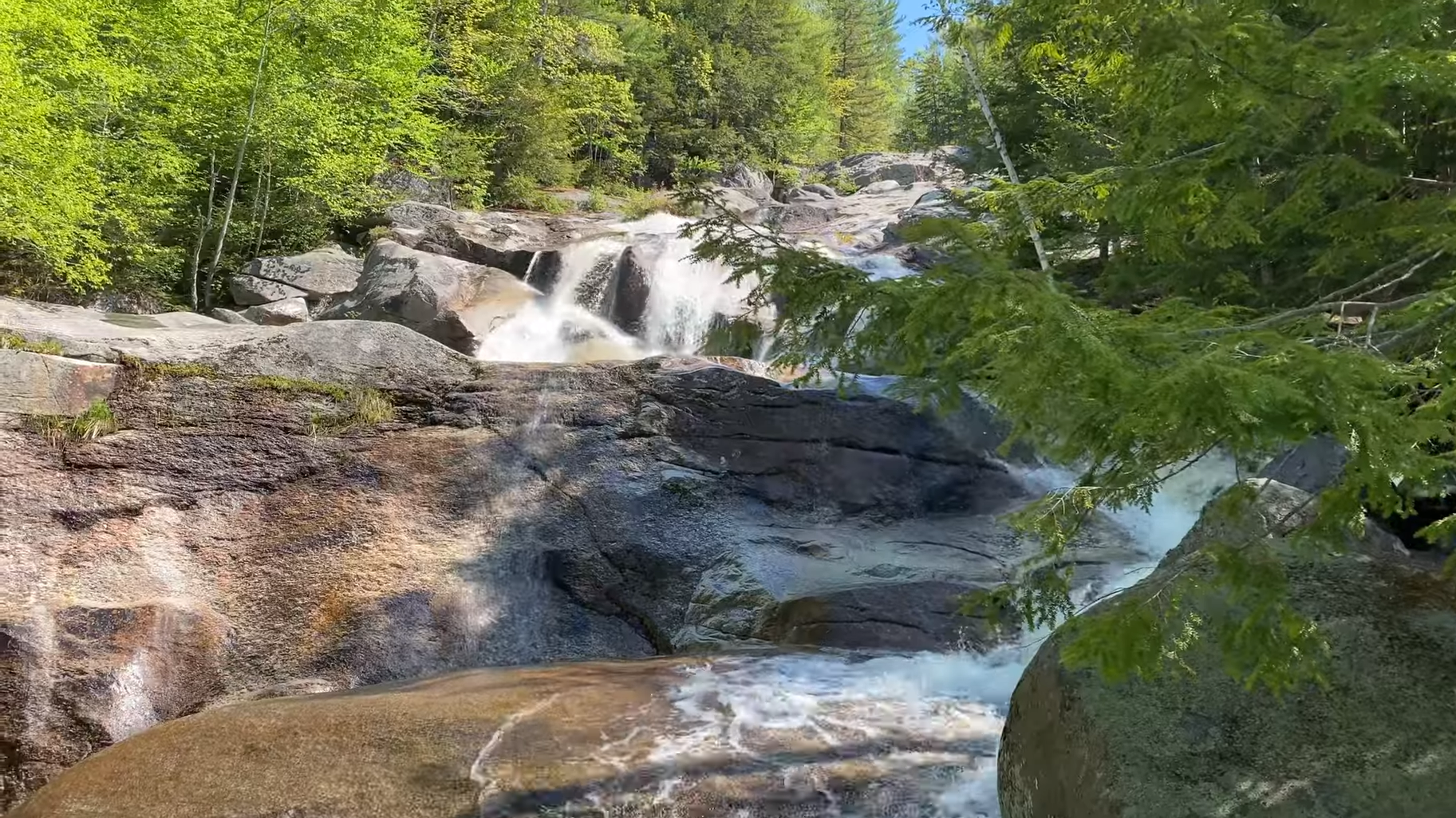 Rumford Falls, Rumford
Rumford Falls is one of the most popular waterfalls in Maine. Located on the Androscoggin River, the waterfall is an impressive sight to behold. It cascades over two levels of rocks and is accessible via a footbridge.
The trail up to Rumford Falls takes hikers through lush forestland and meadows, offering views of both nature's beauty and man-made structures along the way. The total length of this hike is about 4 miles with an elevation gain of 250 feet.
If you're looking for something more challenging, continue along another 2 miles for a loop that includes the spectacular steel arch bridge crossing over the gorge below Rumford Falls. Make sure to bring plenty of snacks as this part of the trail is less maintained and can be quite strenuous.
At the end of your hike, you will be rewarded with breathtaking views of Rumford Falls from all angles. It's a great spot for photography or just to take in the beauty of Maine nature! So add this to your list of must-see waterfalls when visiting Maine!
Snow Falls, West Paris
Snow Falls is a beautiful waterfall that can be found near West Paris, Maine. It's one of the most popular hiking trails in the area and is known for its stunning beauty. The trail takes you through lush forests and along rocky cliffs with sweeping views of the surrounding landscape. You'll even get to see some wild animals like deer, moose, and birds on your journey!
Once you make it to the top of the falls, you can take a dip in the cool water below. It's one of the best ways to cool off and relax after your hike.
If you're looking for a place to spend an afternoon outdoors, Snow Falls is definitely worth checking out! Just be sure to pack plenty of snacks and water for your journey.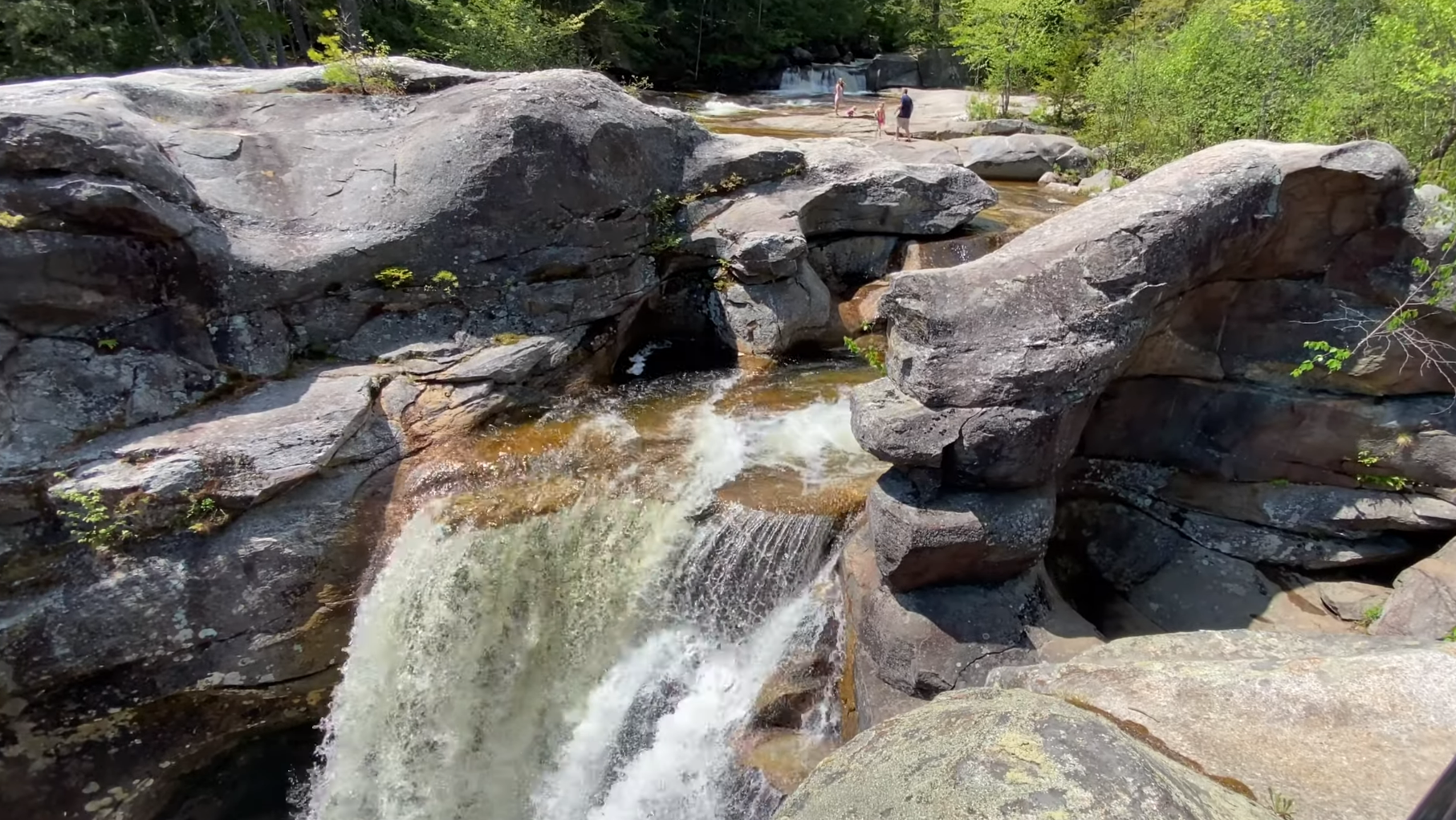 Little Wilson Lower And Upper Falls, Elliotsville
This beautiful pair of cascades is located near Elliotsville, Maine. The lower falls are quite small and can easily be seen from the bridge, while the upper falls consist of a single large drop into a deep pool. Both are possibly one of the most spectacular waterfalls in this region.
The trail to reach these majestic waterfalls is approximately 3 miles round-trip and it's not overly strenuous. It follows an old roadbed that provides easy access even for younger hikers. Once you get there, it's worth taking some time to explore the area around the falls – there are plenty of amazing views! Just make sure to watch your step as the terrain can be quite slippery from all the mist created by the waterfall itself.
It's best to visit this trail during summer or early fall – the foliage around the falls is incredible! Don't forget to bring plenty of water and snacks for your journey, as well as proper waterproof clothing if you want to take a dip in the cool pool at the base of the upper falls.
For all adventurers out there looking for an unforgettable view and a heart-pumping hike, Little Wilson Lower And Upper Falls should definitely be on their list!  Enjoy it responsibly and make sure to always leave no trace!
Grand Falls, West Forks
Grand Falls, located on the Dead River in West Forks, is an especially spectacular spot to visit if you're a fan of Maine's waterfalls. With a drop of about 16 feet, this waterfall can be heard from far away and seen from well-marked trails. Grand Falls is best visited when there's plenty of rainfall because during dry times its flow diminishes significantly. Additionally, you should keep your eyes peeled; moose sightings are common here! Visitors should plan for ample parking and easy access to the trailhead off Route 201B near the dead river bridge. All hiking enthusiasts are sure to enjoy their time spent at Grand Falls! [1]

Magic Falls
Magic Falls is located in the rugged terrain of Maine's Baxter State Park. With a staggering drop of nearly 200 feet and the endless roar of power, this waterfall is a sight to behold. Although it's not easy to reach, the chance to stand in awe of such natural beauty makes the difficult journey more than worthwhile.
The trailhead for Magic Falls is accessible from Katahdin Stream Campground, which is just off Route 11 near Millinocket. The hike itself can be strenuous due to its rocky terrain and steep inclines, but much of it follows alongside Katahdin Brook, which offers beautiful views along the way. After crossing several small streams, you'll soon come across Magic Falls itself. This huge waterfall is definitely the highlight of the hike. Its sheer power and size are sure to take your breath away.
So if you're looking for an unforgettable adventure in Maine's wilderness, be sure to add Magic Falls to your list! With its incredible views and unique sense of awe, it's a great way to experience nature at its finest. So what are you waiting for? Grab your gear and hit the trails — you won't regret it!
Nesowadnehunk Falls
Nesowadnehunk Falls, located in Baxter State Park, is one of the most breathtaking waterfalls in Maine. It plunges over an 80-foot ledge, with a spectacular view from below and above. The hike to Nesowadnehunk Falls is relatively easy and provides incredible views along the way. You can access this trail by taking the Penobscot River Road south from Millinocket for about 5 miles before turning left onto Togue Pond Road. This will take you into Baxter State Park where you can park your car at the Pogy Notch Parking Area. From there you'll find a well-marked hiking trail that leads to the falls.
Once you reach the falls, you can take your time exploring the area and admiring the stunning views. The best way to experience this waterfall is with a picnic lunch or snack to enjoy on one of the rocks around the base of the falls. It's also a great spot for swimming during warmer months! Just be sure to follow all safety guidelines when enjoying Nesowadnehunk Falls and its surroundings.
Whether you're looking for an easy hike or just want to take in some amazing scenery, Nesowadnehunk Falls is sure to not disappoint. So pack up your gear and hit the trail – you're sure to have a wonderful time!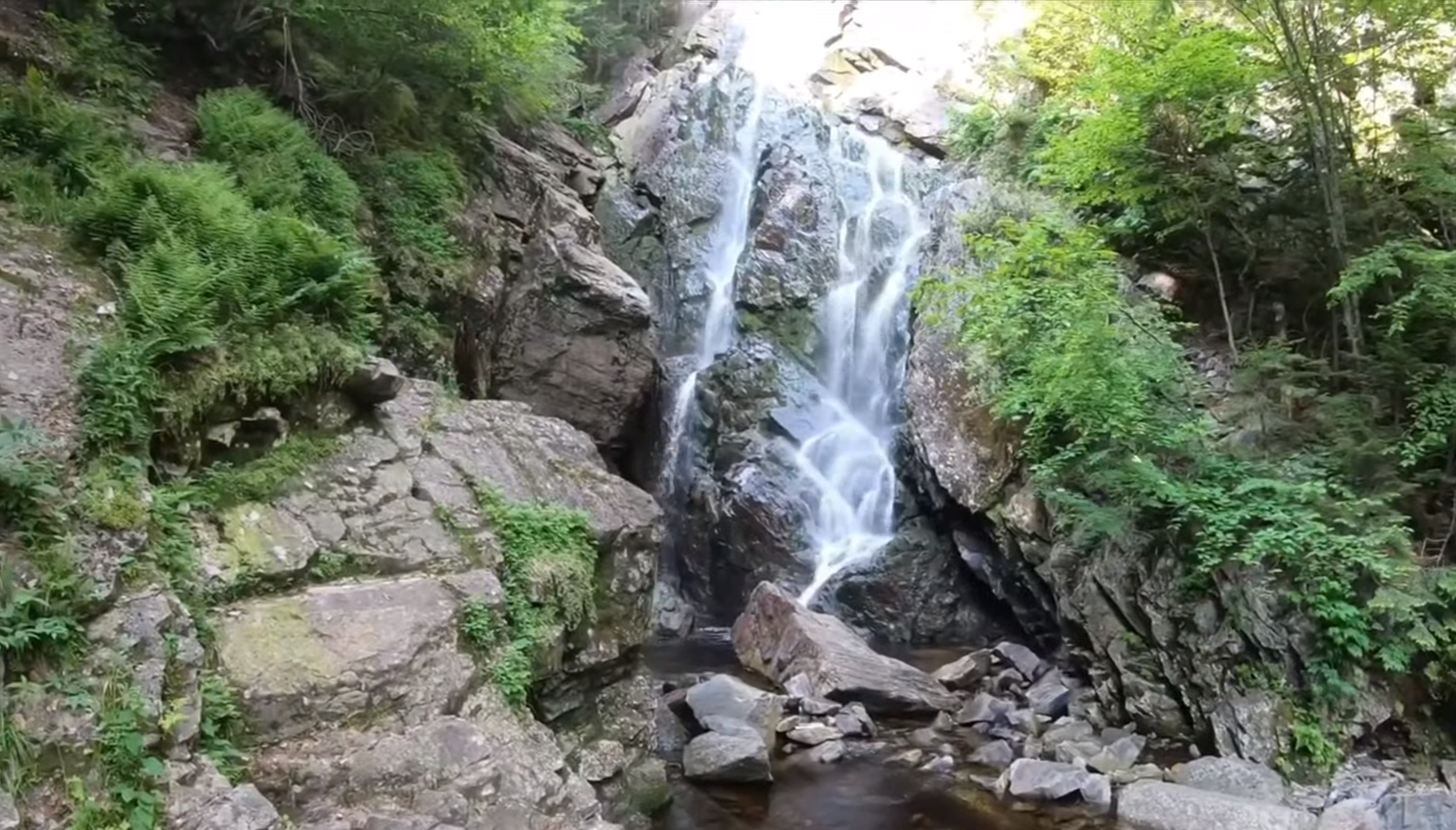 Blueberry Ledges
Located in Grafton Notch State Park, Blueberry Ledges Trail is one of the best trails for hiking with waterfalls in Maine. This loop trail features several cascades and pools along the way. There are a few climbs over rocks and boulders, but nothing too strenuous.
At the beginning of the hike, you'll pass by a gorgeous waterfall that is perfect for photo ops! After this, you'll follow along a rocky stream which leads to some incredible views of the surrounding forest and nearby mountains. The path then continues up to an overlook where you can take in even more stunning views!
The trail is 3 miles out and back, making it perfect for both beginner and experienced hikers alike. With plenty of scenic views along the way and some beautiful waterfalls at the end, Blueberry Ledges Trail is an unforgettable experience. So if you're looking for an amazing hike with waterfalls in Maine, this is definitely one that should not be missed!
Gulf Hagas
Gulf Hagas is a stunning 3.5-mile hike located in the 100-Mile Wilderness of Maine's North Woods. The trail winds through a steep gorge carved by the West Branch of the Pleasant River and showcases some of the state's most spectacular waterfalls, including Screw Auger Falls, Little Niagara Falls and Ripogenus Gorge Falls. If you're feeling adventurous, there are plenty of opportunities to explore side trails for even more cascading waterfalls! While Gulf Hagas is considered a moderate hike due to its length, it can be challenging at times as much of the terrain is rugged and hilly with exposed roots and rocks throughout.
Gulf Hagas is a popular destination for hikers, kayakers, and photographers alike, so you can expect to have plenty of company while exploring this incredible trail. With its combination of beautiful scenery and rewarding views, it's easy to understand why it's become one of Maine's most famous hiking trails! [2]

What To Know Before You Go?
When you plan a hike in Maine, there are a few things to keep in mind. The temperature can drop drastically at night so make sure you bring warm clothing and enough layers for your trip. Also, be aware of the weather forecast before setting out — strong winds and rain can make hiking difficult or even dangerous. In addition, some trails may be more challenging than expected so it's always important to check the trail difficulty rating before heading out.
With the right preparation and knowledge, you can have a safe and enjoyable experience out on the trail. So grab your backpack, lace up your boots, and get ready to explore the best hiking trails with waterfalls!
FAQ
Does Maine have good hiking?
Yes, Maine has some of the best hiking anywhere in the United States. The state is dotted with trails leading to beautiful waterfalls, breathtaking views and unique wildlife. Whether you're looking for a short day hike or an extended backpacking adventure, there's something for everyone in Maine. [3]
What waterfalls are in Maine?
Maine is home to some breathtaking waterfalls, from gentle cascades to towering plunges. Some of the most popular include Moxie Falls, Angel Falls, Reeds Mill Stream Falls, and Gulf Hagas. Each offers a unique experience with its own set of challenges. Whether you're looking for a cool dip or just an awe-inspiring view, there's something for everyone in Maine's stunning natural landscape.
What is the highest hiking trail in Maine?
If you are looking for a challenging hike with stunning views, then the Katahdin Loop Trail in Baxter State Park is the highest hiking trail in Maine. This 21-mile loop goes around Mount Katahdin, the highest peak in Maine. The trail starts and ends at Abol Bridge Campground, located on the East Branch of the Penobscot River. Along this scenic trail, you will find waterfalls, panoramic views from mountain summits, and plenty of opportunities to spot wildlife. Make sure to wear appropriate clothing and bring plenty of water as there are no services along this route. You should also be aware that Baxter State Park has strict rules about camping and fires so plan accordingly if you plan on staying overnight. Regardless of the challenges, hiking the Katahdin Loop Trail is one of the most rewarding experiences for hikers in Maine. [4]
Which Starved Rock Trail has a waterfall?
Starved Rock Trail is one of the best hiking trails. Located in the northern part of the state, near Rangeley, Starved Rock Trail features a 40-foot waterfall cascading down over rocks and lush vegetation. If you're looking for a breathtaking view, this trail is definitely worth checking out. The hike itself isn't too strenuous and takes about an hour to complete. Just bring good shoes and enough water! Once you reach the top, you'll be rewarded with some amazing views of the surrounding landscape. So grab your gear and head out on your own adventure – you won't regret it! [5]
Useful Video: Exploring 7 of Maine's Beautiful Waterfalls
Conclusion
Maine is a beautiful state with lots of incredible waterfalls. Whether you're looking for an easy hike or a more strenuous adventure, Maine has something to offer every nature lover. With its varied terrain and stunning views, a hike around one of these majestic waterfalls can be the perfect way to spend the day. Be sure to take all the necessary safety precautions and check trail conditions before heading out so that you can have an enjoyable and safe experience. Enjoy exploring Maine's waterfalls! Happy Hiking!
References:
https://www.travelawaits.com/2493792/scenic-waterfall-hikes-maine/
https://www.northernoutdoors.com/maine-waterfalls-hiking-trails/
https://visitmaine.com/things-to-do/hiking-climbing
https://www.lonelyplanet.com/articles/best-hikes-in-maine
https://www.starvedrocklodge.com/hiking-trails-waterfalls/