A waterfall hike in Gatlinburg offers an adventurous experience amidst stunning natural scenery. From cascading waterfalls and lush greenery to breathtaking views and challenging trails, Gatlinburg's waterfall hikes provide a beautiful and unforgettable experience. With our guide to hiking trails in Gatlinburg, TN with waterfalls, you'll have all the information you need to plan your next outdoor excursion.
Hikes with Waterfalls Near Gatlinburg, TN
Gatlinburg, TN has some incredible hikes that reward hikers with amazing views of waterfalls. If you're looking for a great hike to take in the beauty of Tennessee's cascading waters, look no further! Here are some popular trails.
Cataract Falls Trail
If you're looking for a nice, easy trail with beautiful waterfalls in Gatlinburg, then the Cataract Falls Trail is perfect for you. This moderate two-mile hike takes about an hour and fifteen minutes to complete, making it a great choice if you don't have a lot of time to spare. You'll start your journey at the Rainbow Falls picnic area before following the river upstream. As you make your way up the trail, take some time to enjoy the peaceful atmosphere and soak up all of its beauty. When you reach Cataract Falls, there are plenty of spots to stop and relax while admiring the stunning sight of cascading waterfalls surrounded by lush greenery. Pack some snacks and spend a few hours enjoying the serenity of your surroundings. You won't regret it!
No matter what type of hiker you are, everyone can enjoy Cataract Falls Trail. It's an ideal choice for both experienced and novice hikers alike, so don't hesitate to take on this scenic journey with friends or family. And be sure to bring your camera – you won't want to miss out on capturing these breathtaking views!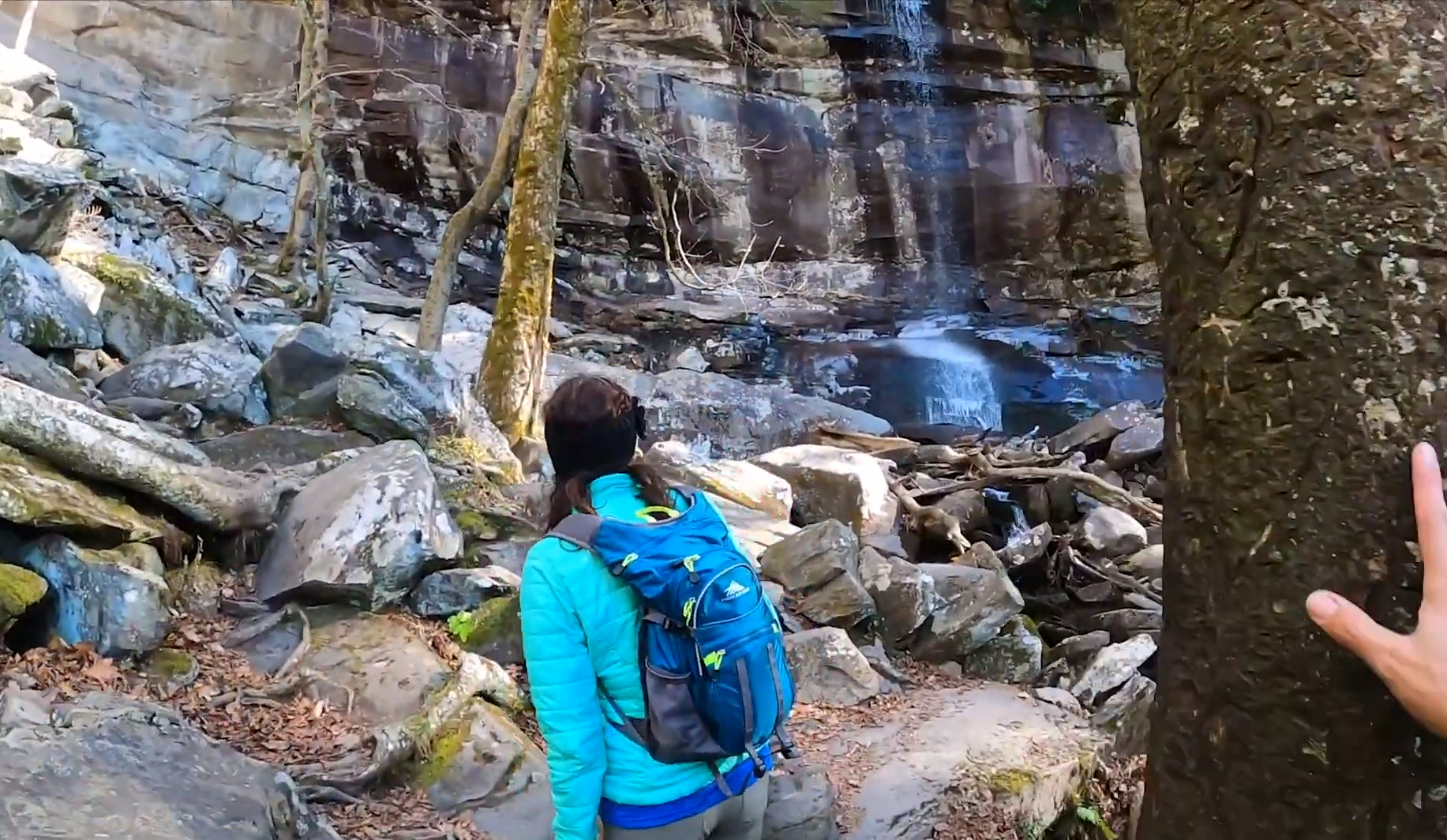 Sugarland Valley Nature Trail
It's a relatively easy 2-mile hike, and it's located in the heart of the city. You'll find several breathtaking cascades along this hike, including Three Graces Falls, Indian Flats Falls, and Cantilever Ledges.
Laurel Falls Trail
The Laurel Falls Trail is a 1.6 mile hike through an old-growth forest that is moderately difficult. This scenic trail leads to an 80-foot waterfall that is breathtaking. It's family-friendly and a great option for those looking for an outdoor experience that won't take all day.
Jake's Creek Trail to Avent Cabin
The hike starts off on a moderate grade as it snakes its way along Jake's Creek and then gradually becomes steep as you ascend to Avent Cabin. Along the way, you'll be treated to stunning views of the Smoky Mountains, as well as several waterfalls – including one that cascades down into an emerald green pool below. It's a fairly short hike (only 1.5 miles trip) so it won't take up your whole day. Pack plenty of snacks and water – and don't forget your camera – for this amazing hike!
Metcalf Bottoms Trail
If you're looking for an easy hike that still offers beautiful views and a waterfall, Metcalf Bottoms Trail is the perfect choice. Located just outside of Gatlinburg, it winds through lush forests and valleys. At the end of the trail, you'll be rewarded with spectacular views of Metcalfe Bottoms Waterfall. This 6-mile trip trail is suitable for all skill levels and can typically be completed in around 2-3 hours at a leisurely pace. It's important to note that many sections of this trail are slightly inclined, so it may take longer if you aren't familiar with hiking steep inclines. But don't let this deter you – the scenery makes it worth the effort!
Be sure to wear sturdy shoes – the terrain can be quite rocky in some sections. Also, don't forget sunscreen and bug spray to protect yourself from any pests that may come out in search of a snack. Once you've packed all the essentials, you'll be ready for an exciting adventure along this beautiful Gatlinburg trail!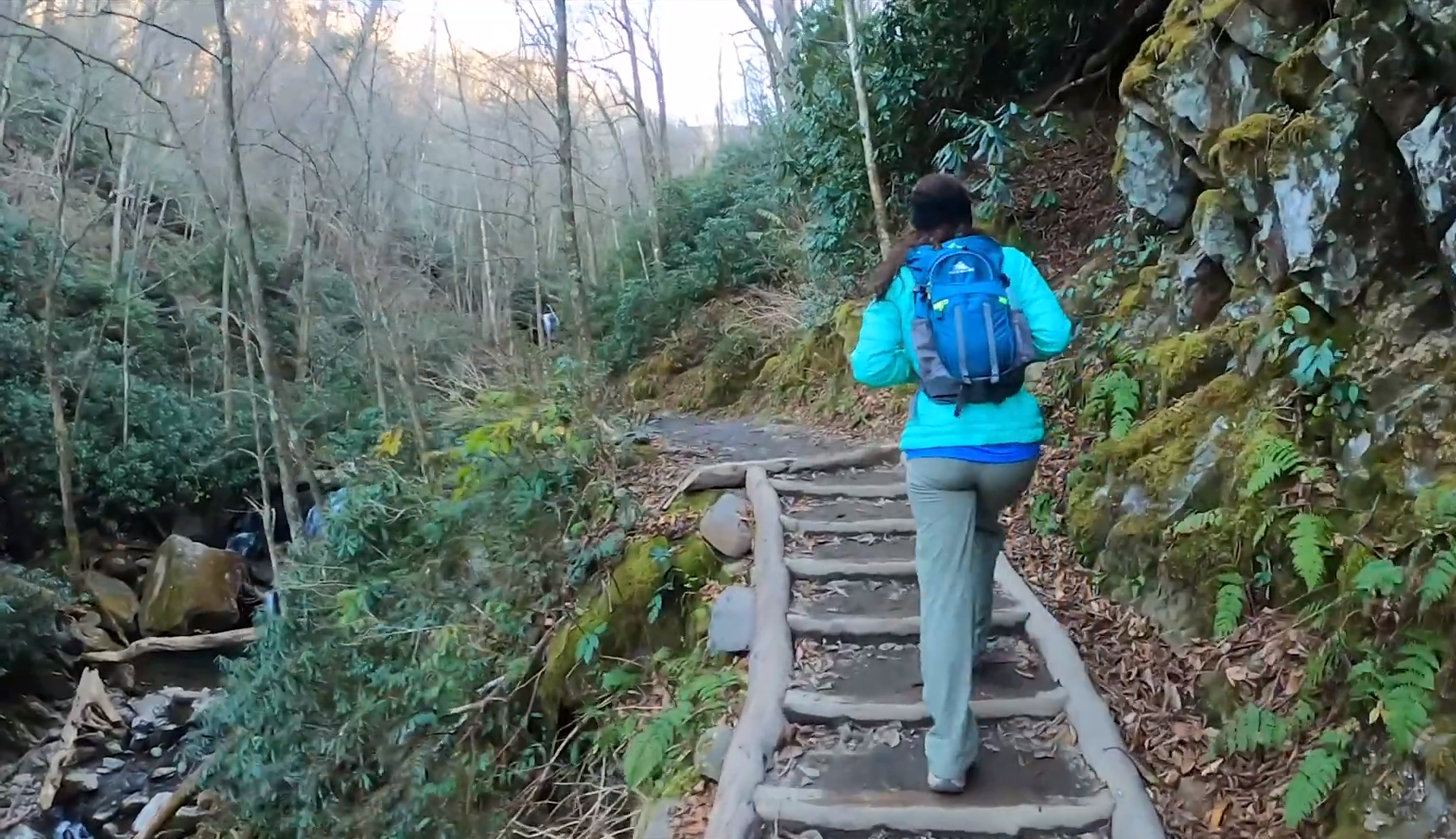 Little River Trail & Troll Bridge
The Little River Trail is a 3-mile out-and-back hike. The trail follows the banks of the Little River, and is filled with cascading waterfalls and breathtaking views. At about halfway through the hike you'll come across a troll bridge – a cool spot for some pictures! You can also take advantage of rest stops along the trail if needed.
Elkmont Nature Trail
This trail is a great option for those looking to explore the beauty of Gatlinburg, TN with waterfalls. This 2-mile hike takes you through several acres of lush forest and streams on its way to the 20-foot waterfall. It's an easy trail that can be completed in about two hours. You'll likely see some wildlife along the way so be sure to bring your camera! There are a few minor elevation changes but nothing too strenuous. Once you reach the end of the trail, you'll be rewarded with amazing views of Laurel Falls and White Oak Sinks. Be sure to keep an eye out for wildflowers blooming throughout spring and summer!
Baskins Creek Falls​
Baskins Creek Falls is a spectacular, 150-foot cascade located in the Smoky Mountains National Park. Its trailhead is very close to Gatlinburg and it's one of the easiest hiking trails you can find near the city. The hike itself is fairly short (about 1 mile round trip) and semi-challenging as it has some sections with steep inclines. Once you get to the top, you'll be rewarded with stunning views of Baskins Creek and its breathtaking waterfall!
Overall, Baskins Creek Falls is a must-see for any Gatlinburg visitor looking for an easy yet rewarding waterfall hike. So lace up your hiking boots and hit the trail – you won't be disappointed!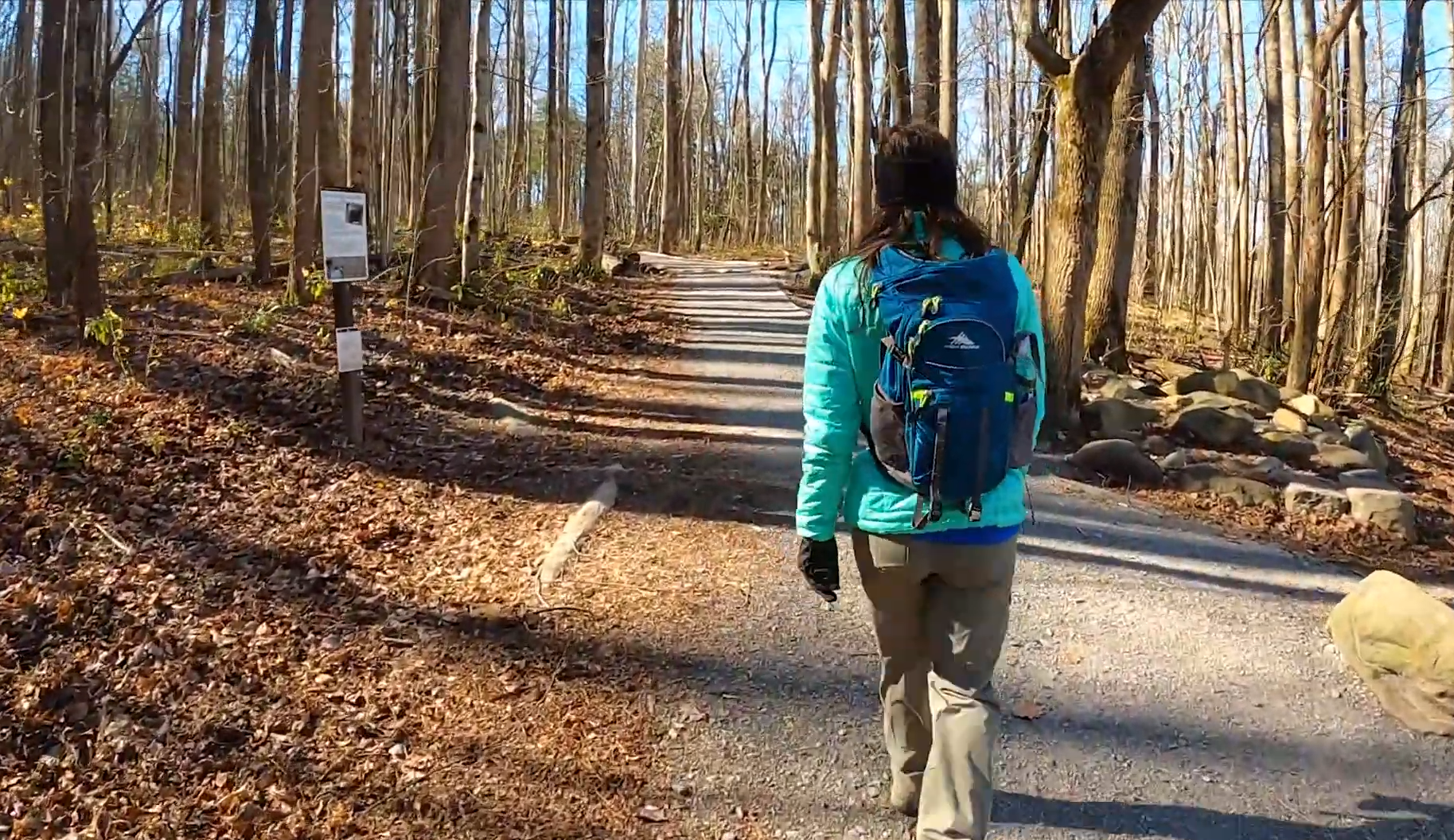 Hen Wallow Falls
Hen Wallow Falls is one of the most well liked hiking trails in Gatlinburg, TN. Situated in the Great Smoky Mountains National Park, this hike leads you to a 90-foot cascading waterfall. The round-trip length of the trail is 8 miles and the total elevation gain is 1400 feet.
If you're up for a challenging journey, then Hen Wallow Falls should be your first choice! The trail winds through thick forests and meadows along Abrams Creek as it climbs steeply from Forge Creek Road towards its destination. Be sure to bring plenty of food and water since there are no bathrooms or facilities on the way – you'll need all that energy to carry yourself up those hills!
Rainbow Falls
The Rainbow Falls trail is a moderate 3-mile hike that leads to the 80-foot tall waterfall. This popular trail offers plenty of photo opportunities and stunning views of the Smoky Mountains and nearby mountain streams. It takes about an hour and a half to reach the falls if you are hiking at a leisurely pace. The last part of the journey includes some steep climbs, so make sure your fitness level is up to par before attempting this one! You can also find a variety of wildflowers along this trail in springtime that make for beautiful photos. Once you reach the falls, stop and take in the beauty as rushing water cascades down into deep pools below. There's no better feeling than standing beneath a waterfall!
The Sinks
The Sinks is one of the most popular trails in Gatlinburg, and for good reason. This 4.6-mile loop trail guides hikers up a mountain through lush forests and leads to two stunning waterfalls that form a serene pool at the base of each. The views from this trail are simply breathtaking, making it well worth the trek!
If you're looking for a serene escape with some exciting outdoor adventure thrown in, The Sinks is definitely the place to be. Just make sure to bring the right gear, as this trail can be a bit challenging. Don't forget your sunscreen and plenty of water!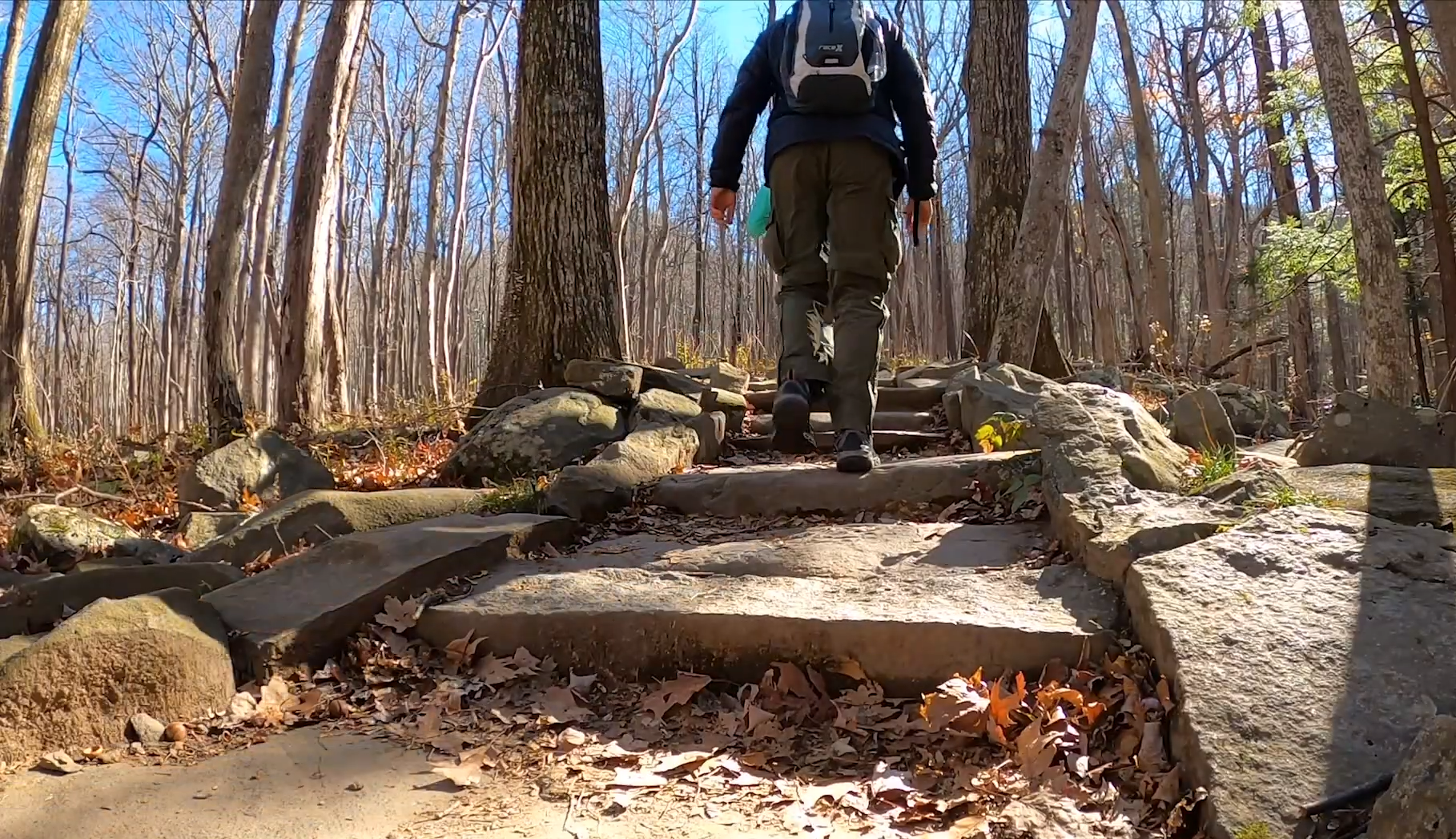 Grotto Falls
Grotto Falls is one of the most popular waterfalls in Gatlinburg, and for good reason! This 2.6-mile out-and-back trail will take you to a 25-foot cascading waterfall with a cave behind it. The cool air inside the cave makes this a great spot to take a break during your hike. Keep an eye out for salamanders living around the falls as well as other wildlife along the way. Make sure to bring plenty of snacks and water so that you can enjoy the scenery at your leisure! Be aware that this trail can get crowded, especially on weekends and holidays, so plan accordingly if possible. You'll be rewarded with stunning views of both forest and mountain landscapes along the way.
Ramsey Cascades
Ramsey Cascades is the tallest and most beautiful waterfall in Tennessee, standing at 100 feet high. The trail to get to it is an 8-mile roundtrip and can take up to 4 hours or more depending on your speed of travel. It's not for beginners – this hike has some challenging parts, with a few steep sections and plenty of rocky terrains. However, the views along the way are absolutely stunning, so it's worth it! You'll find yourself passing through old-growth forests as you make your way towards Ramsey Cascades and the cascading falls that plunge from a cliff face into a pool below. Be sure to bring plenty of water, snacks, sunscreen and bug spray for this journey – you don't want to be caught unprepared! Once you make it to Ramsey Cascades, you'll be rewarded with some of the most beautiful sights in Tennessee. The waterfall is breathtakingly gorgeous and definitely worth the climb. From here, you can take a rest before making your way back down the trail. [1]
Juney Whank Falls Trail
The Juney Whank Falls Trail is one of the most popular hikes in Gatlinburg, and for good reason! This 3-mile loop trail takes you up a steep climb to the beautiful Juney Whank Falls. With stunning scenic views along the way, you won't soon forget this amazing hike. After reaching the falls, take some time to explore the area, as there are plenty of spots for swimming and wading in the cool waters. Don't forget to bring your camera – this is one hike that will provide plenty of memories worth preserving! For those looking for an easier hike option, consider taking a 2 mile out-and-back route instead of completing the full loop trail. Either way, Juney Whank Falls Trail is an unforgettable experience!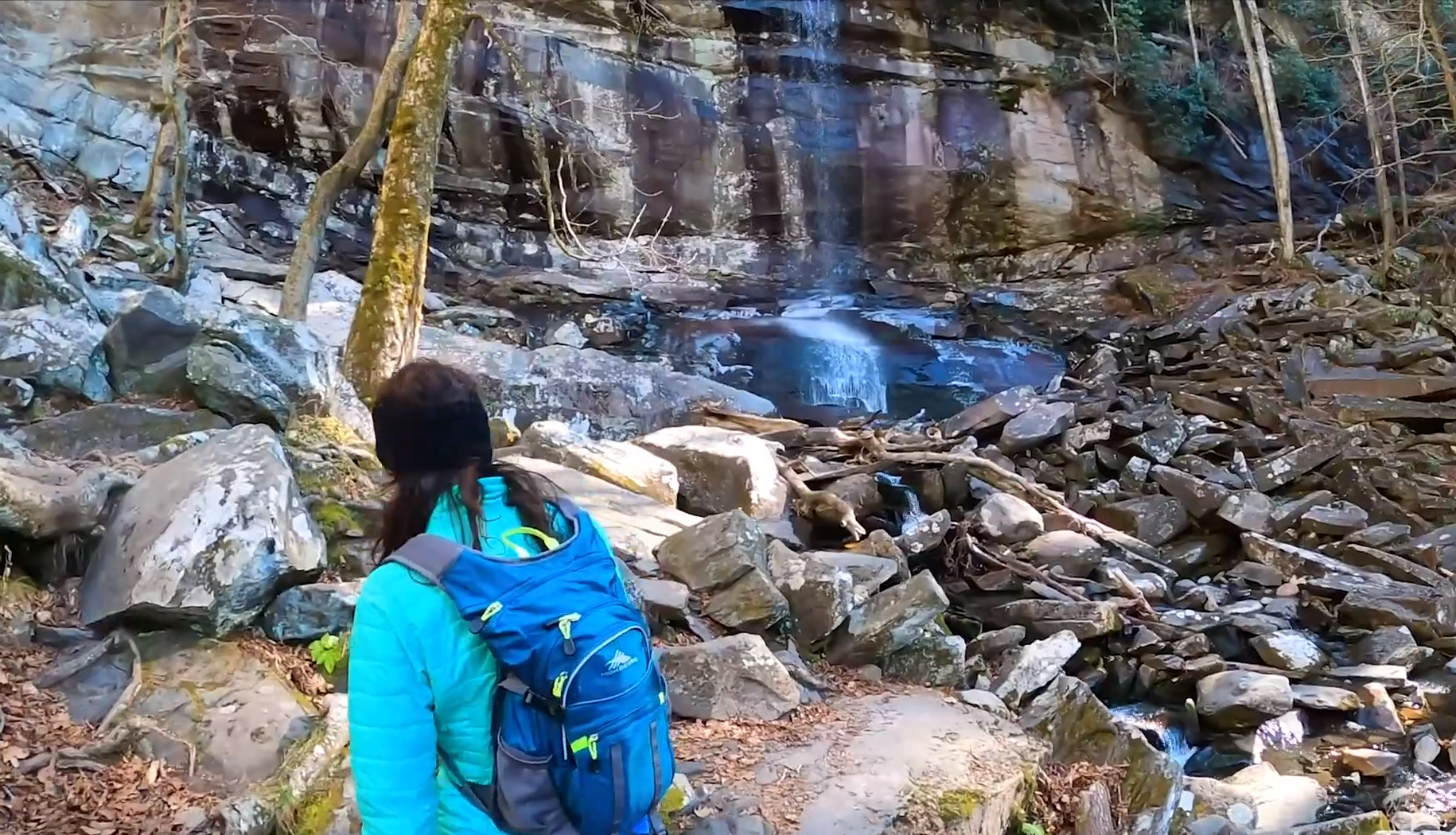 Spruce Flat Falls
Spruce Flat Falls in the Great Smoky Mountains National Park is one of the most popular hiking trails in Gatlinburg with waterfalls. This moderate hike features a beautiful waterfall at the end that cascades over a rocky ledge into a deep pool below. The total distance of this trail is 1.8 miles and it takes about 2 to 3 hours to complete. Hiking along Spruce Flat Falls, you'll experience lush vegetation and breathtaking views of the Great Smokies. Make sure to bring plenty of water as it can get hot on this trail during summer months! Additionally, swimming is not allowed here so be sure to keep your feet dry as you explore!
One thing to note when hiking Spruce Flat Falls is that the trail can be slippery during and after rain. Be sure to wear proper footwear with good grip and tread if you plan on hiking this trail in wet conditions. As with any hike, make sure to take precautions when planning and setting out for your adventure!
Meigs Falls
Meigs Falls is a popular hiking trail with a 20-foot waterfall. The trail itself is an easy 1 mile loop that's perfect for all skill levels — even beginners! With breathtaking views of the surrounding countryside and plenty of places to take photos, this hike is perfect for anyone looking for adventure and some great scenery. Be sure to bring your camera so you don't miss any of the beauty that Meigs Falls has to offer!
The Best Time to Visit the Gatlinburg Outdoors
When planning a trip to Gatlinburg, you should consider the best time of year to visit. The city is known for its beautiful mountain scenery and access to outdoor activities like hiking, camping, and fishing. Depending on your interests, there are certain times of the year that offer a more unique experience than others.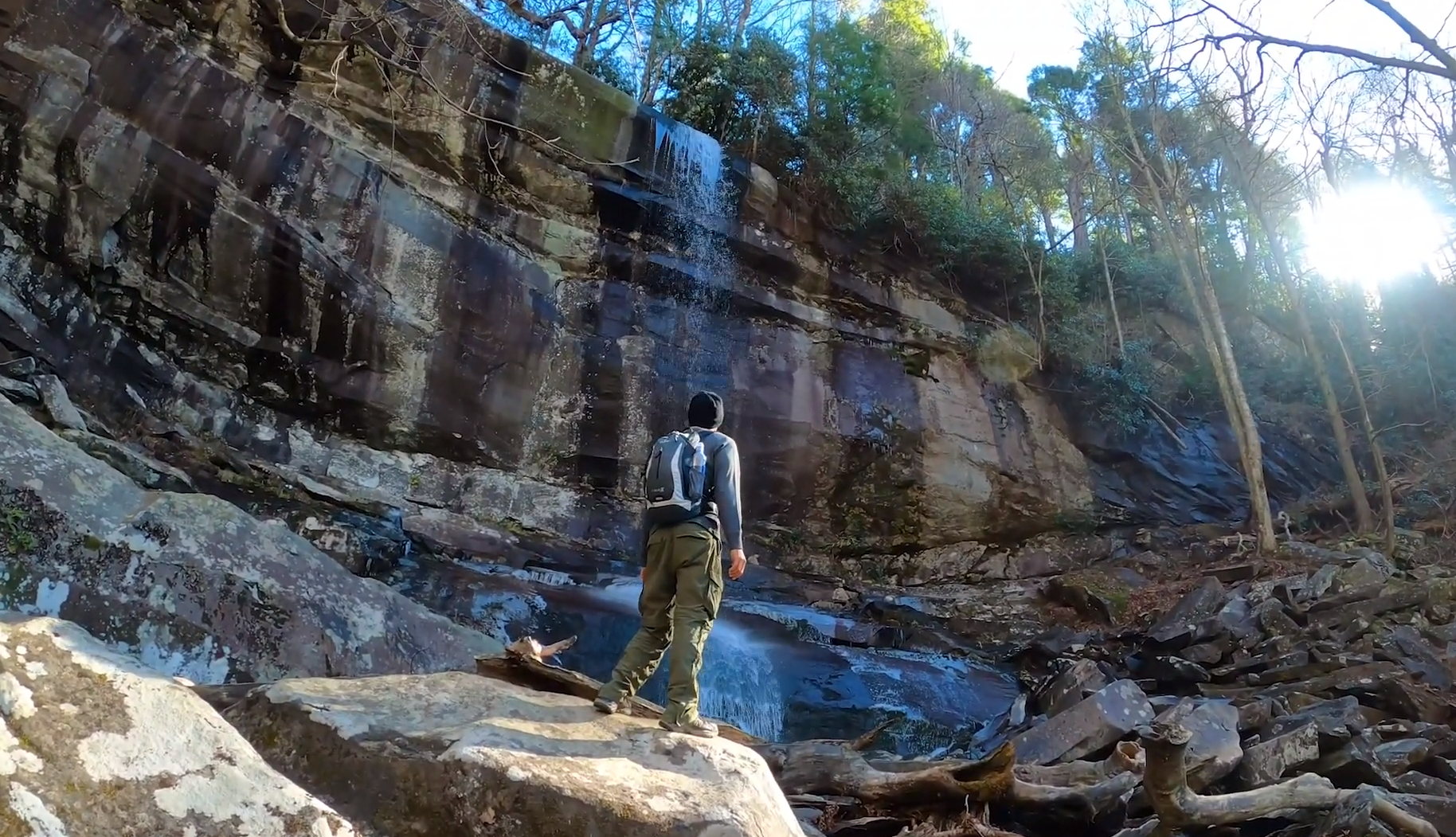 Summer
The summer months (June-August) in Gatlinburg are perfect for those looking to hike some of the area's trails with waterfalls. With temperatures in the mid 70s during most days, this is the ideal weather for an enjoyable outdoor adventure. This season also offers up plenty of wildflowers and other natural wonders that can be seen along many trails throughout the city.
Fall
For those looking for a quieter experience, the fall months (September-November) may be the best time to visit Gatlinburg. During this time of year, temperatures begin to cool off and there's usually much less crowding from tourists. The autumn foliage is also quite beautiful in the area and can be enjoyed while hiking any of its trails with waterfalls.
Winter
The winter months (December-February) are a great time for experienced hikers who don't mind braving cooler temperatures and possibly some wet weather conditions. If you plan on visiting Gatlinburg during the colder season, ensure to pack plenty of layers and warm clothes for your hike!
Spring
Finally, spring (March-May) brings along with it warmer weather and longer days, making it the perfect time for families looking to get out and enjoy some of Gatlinburg's trails with waterfalls. While the wildflowers won't be in bloom yet, you can still see plenty of natural beauty in the area during this season. [2]
When planning a visit to the outdoors in Gatlinburg, be sure to research the available trails ahead of time, regardless of the season. This way, you can find the best one that suits your interests and skill level.
FAQ
What is the easiest hike to a waterfall in Gatlinburg?
Cataract Falls is an easy one-mile loop located on the outskirts of Gatlinburg. This trail provides breathtaking scenic vistas, in addition to a picturesque waterfall. The trailhead can be found at the end of Glades Rd, and it's an enjoyable trip for all levels of hikers. [3]
What waterfall can you walk behind in Gatlinburg?
In Gatlinburg, TN, there are several hiking trails that lead to spectacular waterfalls — and some of them even allow you to walk behind the cascading wall of water!
One of the most admired spots is Grotto Falls. You can find a 2-mile trail. Once you finish hiking up the moderately inclining path, you will arrive at a waterfall that is 25 ft high. To get an extra special view, make your way around the base of the falls until you can access its backside — a large cave behind the curtain of falling water! [4]
Another waterfall is Laurel Falls. This 80-ft high cascading beauty is one of the most visited destinations in the area, and it's easy to see why — it's stunning! To reach this spot, you'll need to hike about 2.6 miles up a paved trail in the Great Smoky Mountains National Park. Once you arrive at the base of the falls, you can make your way around its backside for a truly unique view.
No matter which waterfall you choose to visit, you're sure to have an unforgettable experience as you adventure through Gatlinburg's breathtaking scenery! Before heading out on your explorations, be sure to check for trail closures and alert notices.
Does Gatlinburg have good hiking?
Yes! Gatlinburg Tennessee has some of the most magnificent and accessible hiking trails around. There is a wide variety of trails for all levels, from easy strolls along rivers to more challenging trekking up mountainsides. And if you're looking for an even bigger adventure, there are plenty of waterfalls to explore! The area offers a range of activities for different types of adventurers, so it's worth exploring some options before heading out.
What waterfalls are easy to hike near Pigeon Forge?
If you're looking for an easy, short hike with a rewarding waterfall destination near Pigeon Forge, Laurel Falls is the perfect spot. This 80-foot tall waterfall is accessible by a two-mile paved trail and can be done in as little as one hour. This trail is especially popular with families because of its convenience and accessibility. [5]
Another option for an easy hike near Pigeon Forge is Ramsey Cascade. The 2 mile trip journey leads to a 100-ft tall cascade. Although it may take more time than Laurel Falls, Ramsey Cascade offers beautiful views of rolling hills and old-growth forest.
If you are looking for a challenging adventure, you should consider taking the Porters Creek Trail. This 4.5 mile round trip trail leads to two cascades – Fern Branch Falls and Indian Flats Falls – both of which are well worth the effort! The trail passes through lush forests, over creeks, and by an old family cemetery before finally arriving at the falls.
Useful Video: Hiking to Rainbow & Grotto Falls in Smoky Mountains National Park | Gatlinburg, TN
Conclusion
Hiking through Gatlinburg, TN is a great way to explore the beauty of the Smoky Mountains. Its many trails offer an array of stunning views and waterfalls that will leave you in awe as you hike. Whether you're looking for a relaxing stroll or something more challenging, there are trails for all skill levels and interests. With this guide, you'll be ready to hit the trails and start exploring this beautiful area! Happy hiking!
References:
https://www.gatlinburg.com/blog/post/waterfalls-in-the-smokies-you-may-not-know-about/
https://www.dominicanabroad.com/hikes-gatlinburg-waterfalls/
https://www.blackbeargatlinburg.com/blog/smoky-mountain-waterfalls-near-gatlinburg/
https://www.hearthsidecabinrentals.com/blog/gatlinburg/breathtaking-waterfalls-near-gatlinburg/
https://www.sbgetaways.com/blog/easy-waterfall-hikes-in-the-great-smoky-mountains-national-park